Columbian Exposition Collection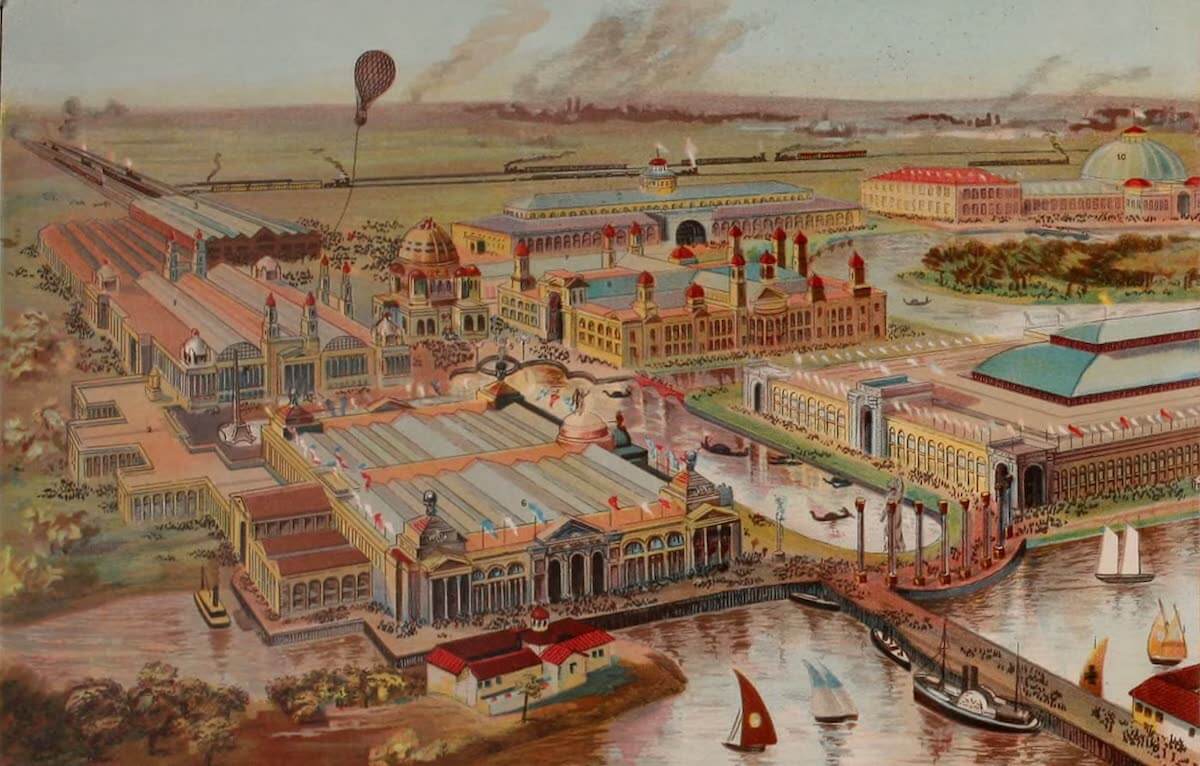 The World's Columbian Exposition (the official shortened name for the World's Fair: Columbian Exposition, also known as the Chicago World's Fair and Chicago Columbian Exposition) was a world's fair held in Chicago in 1893 to celebrate the 400th anniversary of Christopher Columbus's arrival in the New World in 1492.
The centerpiece of the Fair, the large water pool, represented the long voyage Columbus took to the New World. Chicago bested New York City, Washington, D.C., and St. Louis for the honor of hosting the fair. The Exposition was an influential social and cultural event and had a profound effect on architecture, sanitation, the arts, Chicago's self-image, and American industrial optimism.
The layout of the Chicago Columbian Exposition was, in large part, designed by John Wellborn Root, Daniel Burnham, Frederick Law Olmsted and Charles B. Atwood. It was the prototype of what Burnham and his colleagues thought a city should be. It was designed to follow Beaux Arts principles of design, namely French neoclassical architecture principles based on symmetry, balance, and splendor.
The color of the material generally used to cover the buildings façades gave the fairgrounds its nickname, the White City. Many prominent architects designed its 14 "great buildings". Artists and musicians were featured in exhibits and many also made depictions and works of art inspired by the exposition.
The exposition covered 690 acres (2.8 km2), featuring nearly 200 new (but deliberately temporary) buildings of predominantly neoclassical architecture, canals and lagoons, and people and cultures from 46 countries. More than 27 million people attended the exposition during its six-month run. Its scale and grandeur far exceeded the other world's fairs, and it became a symbol of the emerging American Exceptionalism, much in the same way that the Great Exhibition became a symbol of the Victorian era United Kingdom.
Dedication ceremonies for the fair were held on October 21, 1892, but the fairgrounds were not actually opened to the public until May 1, 1893. The fair continued until October 30, 1893. In addition to recognizing the 400th anniversary of the discovery of the New World by Europeans, the fair also served to show the world that Chicago had risen from the ashes of the Great Chicago Fire, which had destroyed much of the city in 1871.
On October 9, 1893, the day designated as Chicago Day, the fair set a world record for outdoor event attendance, drawing 751,026 people. The debt for the fair was soon paid off with a check for $1.5 million (equivalent to $41.8 million in 2018). Chicago has commemorated the fair with one of the stars on its municipal flag.
Available Books
Images
Maps
View All Topics