Sailing Collection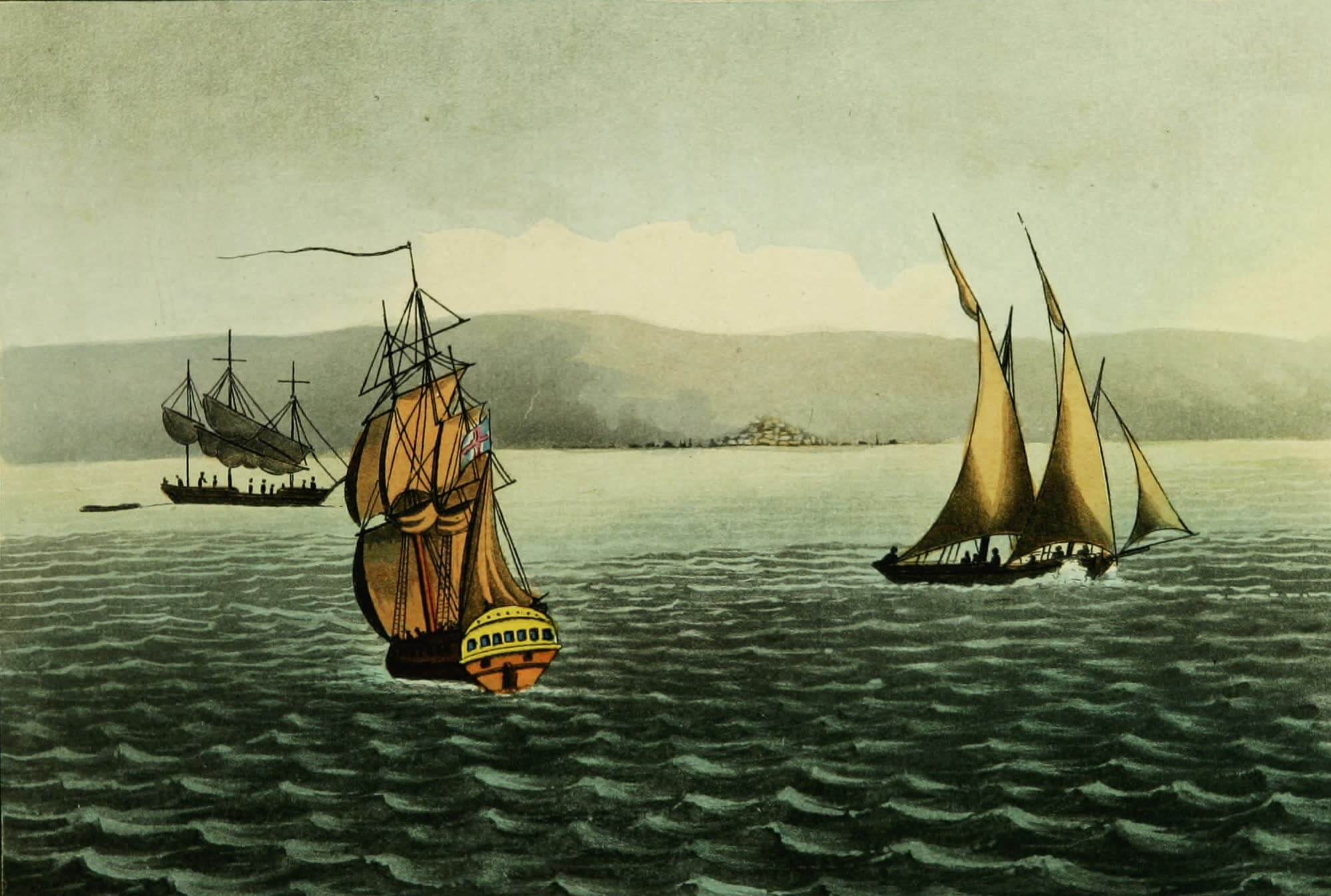 In the 21st century, most sailing represents a form of recreation or sport. However, until the mid of the 19th century, sailing ships were the primary means for marine travel, a period known as the Age of Sail (1571-1862). Many of our collections are centered around maritime exploration and adventure and prominently feature the topic of sailing.
The age of sail runs roughly from the Battle of Lepanto in 1571, the last significant engagement in which oar-propelled galleys played a major role, to the Battle of Hampton Roads in 1862, in which the steam-powered ironclad CSS Virginia destroyed the sailing ships USS Cumberland and USS Congress, demonstrating that the advance of steam power had rendered sail power in warfare obsolete. The Suez Canal, in the Middle-East, which opened in 1869, was impractical for sailing ships, and made steamboats faster on the European-Asian sea route.
The period between 1850 and the early 20th century when sailing vessels reached their peak of size and complexity is sometimes referred to as the "Golden Age of Sail". During this time the efficiency and use of commercial sailing vessels was at its peak-immediately before steamboats started to take trade away from sail. By 1873, the Age of Sail had definitely ended, with HMS Devastation (1871), commissioned in 1871. HMS Devastation was the first class of ocean-going battleships that did not carry sails.
Sailing ships sometimes continued to be an economical way to transport bulk cargo on long voyages into the 1920s, even if steamships also were used for such transports and became more and more common. Sailing ships do not require fuel or complex engines to be powered; thus they tended to be more independent from requiring a dedicated support base on the mainland. Crucially though, steam-powered ships held a speed advantage and were rarely hindered by adverse winds, freeing steam-powered vessels from the necessity of following trade winds. As a result, cargo and supplies could reach a foreign port in half the time it took a sailing ship.
However, eventually sailing vessels were pushed into narrower and narrower economic niches and gradually disappeared from commercial trade. Today, sailing vessels are only economically viable for small scale coastal fishing, along with recreational uses such as yachting and passenger sail excursion ships.
Available Books
| Book Title | Date |
| --- | --- |
| A Brief Narrative of an Unsuccessful Attempt to Reach Repulse Bay | 1825 |
| A Descriptive and Topographical Guide to Costa Scena | 1823 |
| A General History of Pyrates Vol. I | 1724 |
| A General History of Pyrates Vol. II | 1724 |
| A Narrative of the Cruise of the Yacht Maria | 1855 |
| A New Voyage Round the World Vol. 1 | 1830 |
| A New Voyage Round the World Vol. 2 | 1830 |
| A Short Narrative of the Second Voyage of the Prince Albert | 1853 |
| A Summer Search for Sir John Franklin | 1853 |
| A Treatise on Navigation by Steam | 1828 |
| A Two Years Cruise off Tierra del Fuego Vol. 1 | 1857 |
| A Two Years Cruise off Tierra del Fuego Vol. 2 | 1857 |
| A Visit to the Indian Archipelago, in H.M.S. Maeander | 1853 |
| A Visit to the South Seas, in the United States Ship Vincennes Vol. 2 | 1832 |
| A Visit to the South Seas, in the United States Ship Vincennes Vol. 2 | 1832 |
| A Voyage in the South Seas | 1823 |
| A Voyage of Discovery | 1819 |
| A Voyage of Discovery and Research in the Southern and Antarctic Regions Vol. 1 | 1847 |
| A Voyage of Discovery and Research in the Southern and Antarctic Regions Vol. 2 | 1847 |
| A Voyage of Discovery, into the South Sea and Beering's Straits Vol. 1 | 1821 |
| A Voyage of Discovery, into the South Sea and Beering's Straits Vol. 2 | 1821 |
| A Voyage of Discovery, into the South Sea and Beering's Straits Vol. 3 | 1821 |
| A Voyage Round the World | 1814 |
| A Voyage to Cochinchina | 1806 |
| A Voyage to Terra Australis [Atlas] | 1814 |
| A Voyage to Terra Australis Vol. 1 | 1814 |
| A Voyage to Terra Australis Vol. 2 | 1814 |
| A Voyage to the South Sea, and Round the World Vol. 1 | 1712 |
| A Voyage to the South Sea, and Round the World Vol. 2 | 1712 |
| A Voyage Towards the North Pole | 1774 |
| A Voyage Towards the South Pole | 1825 |
| A Voyage Towards the South Pole | 1827 |
| A Voyage Towards the South Pole Vol. 1 | 1777 |
| A Voyage Towards the South Pole Vol. 2 | 1777 |
| A Voyage up the Mediterranean in His Majesty's Ship the Swiftsure | 1802 |
| A Woman's Journey Round the World | 1852 |
| Account of a Voyage of discovery to the West Coast of Corea | 1818 |
| After Icebergs with a Painter | 1861 |
| Album Pittoresque de la Fregate La Thetis et de la Corvette L'Esperance | 1828 |
| An Account of the Pelew Islands | 1788 |
| An Authentic Narrative of the Loss of the American Brig Commerce | 1817 |
| Atlas Maritimus, or a Book of Charts | 1672 |
| Kitab-ı Bahriye [Book of Navigation] | 1525 |
| Brazil and La Plata; The Personal Record of a Cruise | 1856 |
| Captain Cook's Three Voyages Round the World | 1895 |
| Deck and Port, or, Incidents of a Cruise in the United States Frigate Congress to California | 1850 |
| Discours du Voyage des Francois aux Indes Orientales | 1611 |
| Early Voyages to Terra Australis | 1859 |
| Entdeckungsreise in die Sudsee und nach der Berings-Strabe Vol. 1 | 1821 |
| Entdeckungsreise in die Sudsee und nach der Berings-Strabe Vol. 2 | 1821 |
| Entdeckungsreise in die Sudsee und nach der Berings-Strabe Vol. 3 | 1821 |
| Erdumsegelung der Königl. Schwedischen Fregatte Eugenie | 1856 |
| Historic Ships | 1926 |
| Iournael ofte Beschryvinghe van de Wonderlijcke Reyse | 1644 |
| Journal of a Cruise Among the Islands of the Western Pacific | 1853 |
| Journal of a Cruise Made to the Pacific Ocean | 1815 |
| Journal of a Cruise Made to the Pacific Ocean | 1822 |
| Journal of a Second Voyage for the Discovery of a North-West Passage | 1824 |
| Journal of a Third Voyage for the Discovery of a Northwest Passage | 1826 |
| Journal of a Voyage for the Discovery of a North-West Passage | 1821 |
| Journal of a Voyage to the Northern Whale-Fishery | 1823 |
| Le Voyage et Nauigation, faict par les Espaignolz es Isles de Mollucques | 1525 |
| Magellan's Voyage Around the World Vol. 1 | 1906 |
| Magellan's Voyage Around the World Vol. 2 | 1906 |
| Magellan's Voyage Around the World Vol. 3 | 1906 |
| Narrative of a Journey to the Shores of the Polar Sea | 1823 |
| Narrative of a Second Voyage in Search of a North-West Passage Vol. 1 | 1835 |
| Narrative of a Second Voyage in Search of a North-West Passage Vol. 2 | 1835 |
| Narrative of a Visit to Brazil, Chile, Peru, and the Sandwich Islands | 1825 |
| Narrative of a Voyage Round the World Performed in Her Majesty's Ship Sulphur Vol. 1 | 1843 |
| Narrative of a Voyage Round the World Performed in Her Majesty's Ship Sulphur Vol. 2 | 1843 |
| Narrative of a Voyage to Senegal | 1818 |
| Narrative of the Expedition of an American Squadron to the China Seas and Japan Vol. 1 | 1856 |
| Narrative of the Expedition of an American Squadron to the China Seas and Japan Vol. 2 | 1856 |
| Narrative of the Expedition of an American Squadron to the China Seas and Japan Vol. 3 | 1856 |
| Narrative of the Surveying Voyage of H.M.S. Fly Vol. 1 | 1847 |
| Narrative of the Surveying Voyage of H.M.S. Fly Vol. 2 | 1847 |
| Narrative of the United States' Expedition to the River Jordan and the Dead Sea | 1849 |
| Narrative of the United States Exploring Expedition Vol. 1 | 1845 |
| Narrative of the United States Exploring Expedition Vol. 2 | 1845 |
| Narrative of the United States Exploring Expedition Vol. 3 | 1845 |
| Narrative of the United States Exploring Expedition Vol. 4 | 1845 |
| Narrative of the United States Exploring Expedition Vol. 5 | 1845 |
| Narrative of the Voyage of H.M. Floating Dock "Bermuda" | 1870 |
| Narrative of the Voyage of H.M.S. Samarang Vol. 1 | 1848 |
| Narrative of the Voyage of H.M.S. Samarang Vol. 2 | 1848 |
| Notes on a Yacht Voyage to Hardanger Fjord | 1855 |
| Premier Voyage Autour du Monde | 1801 |
| Service Afloat | 1887 |
| Shipbuilding from its Beginnings Vol. 1 | 1913 |
| Shipbuilding from its Beginnings Vol. 2 | 1913 |
| Shipbuilding from its Beginnings Vol. 3 | 1913 |
| Ships and Sailors | 1898 |
| South: The Story of Shackleton's Last Expedition | 1920 |
| The Atlantic Telegraph | 1865 |
| The Atlantic Telegraph [Chart] | 1865 |
| The Cruise of H.M.S. Galatea | 1869 |
| The Cruise of the Antarctic to the South Polar Regions | 1896 |
| The Cruise of the Corwin | 1917 |
| The Eventful Voyage of H.M. Discovery Ship "Resolute" | 1851 |
| The Heart of the Antarctic Vol. 1 | 1909 |
| The Heart of the Antarctic Vol. 2 | 1909 |
| The King of Pirates | 1720 |
| The Last of the Arctic Voyages Vol. 1 | 1855 |
| The Last of the Arctic Voyages Vol. 2 | 1855 |
| The Little Sea Torch: or, True Guide for Coasting Pilots | 1801 |
| The Pirates of Panama | 1914 |
| The Principal Navigations, Voyages, Traffiques and Discoveries of the English Nation | 1599 |
| The Sea-Gunner | 1691 |
| The Sea: It's Stirring Story of Adventure, Peril & Heroism Vols. 1 & 2 | 1880 |
| The Sea: It's Stirring Story of Adventure, Peril & Heroism Vols. 3 & 4 | 1880 |
| The Sinking of the Titanic and Great Sea Disasters | 1912 |
| The Three Voyages of Captain James Cook Round the World Vol. 1 | 1821 |
| The Three Voyages of Captain James Cook Round the World Vol. 2 | 1821 |
| The Three Voyages of Captain James Cook Round the World Vol. 3 | 1821 |
| The Three Voyages of Captain James Cook Round the World Vol. 4 | 1821 |
| The Three Voyages of Captain James Cook Round the World Vol. 5 | 1821 |
| The Three Voyages of Captain James Cook Round the World Vol. 6 | 1821 |
| The Three Voyages of Captain James Cook Round the World Vol. 7 | 1821 |
| The Voyage of the 'Discovery' Vol. 1 | 1905 |
| The Voyage of the 'Discovery' Vol. 2 | 1905 |
| The Voyage of the Jeannette Vol. 1 | 1884 |
| The Voyage of the Jeannette Vol. 2 | 1884 |
| Voyage au Pole Boreal | 1775 |
| Voyage de Francois Pyrard, de Laual | 1619 |
| Voyage de La Perouse Autour du Monde Atlas | 1797 |
| Voyage de La Perouse Autour du Monde Vol. 1 | 1797 |
| Voyage de La Perouse Autour du Monde Vol. 2 | 1797 |
| Voyage de La Perouse Autour du Monde Vol. 3 | 1797 |
| Voyage de La Perouse Autour du Monde Vol. 4 | 1797 |
| Narrative of a Voyage, in His Majesty's late ship Alceste | 1818 |
| Voyage of the Barracouta to Japan, Kamtschatka, Siberia, China, etc | 1859 |
| Voyage of the Prince Albert in Search of Sir John Franklin | 1851 |
Images
Maps
View All Topics