Natural History Collection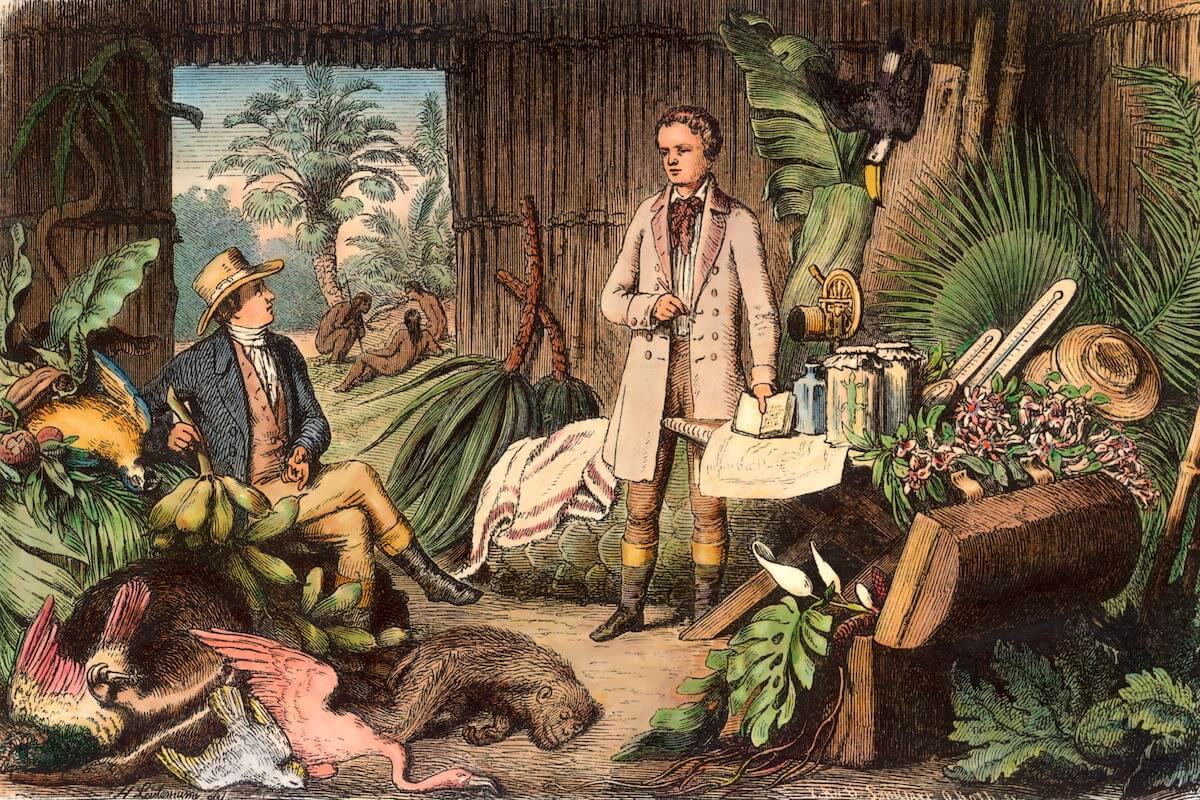 Natural history is a domain of inquiry involving organisms including animals, fungi and plants in their environment; leaning more towards observational than experimental methods of study.
A person who studies natural history is called a naturalist or natural historian. Natural history encompasses scientific research but is not limited to it. It involves the systematic study of any category of natural objects or organisms.
The idea of natural history dates from studies in the ancient Greco-Roman world and the mediaeval Arabic world, through to European Renaissance naturalists working in near isolation, today's natural history is a cross discipline umbrella of many specialty sciences; e.g., geobiology has a strong multi-disciplinary nature.
The meaning of the English term "natural history" (a calque of the Latin historia naturalis) has narrowed progressively with time; while, by contrast, the meaning of the related term "nature" has widened. In antiquity, "natural history" covered essentially anything connected with nature, or which used materials drawn from nature, such as Pliny the Elder's encyclopedia of this title, published circa 77 to 79 AD, which covers astronomy, geography, humans and their technology, medicine, and superstition, as well as animals and plants.
Medieval European academics considered knowledge to have two main divisions: the humanities (primarily what is now known as classics) and divinity, with science studied largely through texts rather than observation or experiment. The study of nature revived in the Renaissance, and quickly became a third branch of academic knowledge, itself divided into descriptive natural history and natural philosophy, the analytical study of nature.
In modern terms, natural philosophy roughly corresponded to modern physics and chemistry, while natural history included the biological and geological sciences. The two were strongly associated. During the heyday of the gentleman scientists, many people contributed to both fields, and early papers in both were commonly read at professional science society meetings such as the Royal Society and the French Academy of Sciences - both founded during the seventeenth century. Natural history had been encouraged by practical motives, such as Linnaeus' aspiration to improve the economic condition of Sweden. Similarly, the Industrial Revolution prompted the development of geology to help find useful mineral deposits.
References:
Koerner, Lisbet (1999). Linnaeus: Nature and Nation. Harvard: Harvard University Press. ISBN 978-0-674-09745-2.
Barry Barnes and Steven Shapin, "Natural order: historical studies of scientific culture", Sage, 1979.
Available Books
| Book Title | Date |
| --- | --- |
| A Journal of Travels into the Arkansa Territory | 1821 |
| A Journey from Prince of Wales's Fort in Hudson's Bay | 1795 |
| A Narrative of Four Journeys into the Country of the Hottentots | 1789 |
| A Natural History of Birds Vol. 1 | 1731 |
| A Natural History of Birds Vol. 2 | 1731 |
| A Natural History of Birds Vol. 3 | 1731 |
| A New Voyage and Description of the Isthmus of America | 1699 |
| A Review of the Primates Vol. 1 | 1913 |
| A Review of the Primates Vol. 2 | 1913 |
| A Review of the Primates Vol. 3 | 1913 |
| A Thousand-Mile Walk to the Gulf | 1916 |
| A Treatise on the Culture of the Tobacco Plant | 1779 |
| A Voyage Towards the South Pole | 1825 |
| A Voyage Towards the South Pole Vol. 1 | 1777 |
| A Voyage Towards the South Pole Vol. 2 | 1777 |
| Abbildungen zur Naturgeschichte Brasiliens | 1822 |
| Africa, Being an Accurate Description | 1670 |
| African Scenery and Animals | 1804 |
| America: Being an Accurate Description of the Nevv VVorld | 1670 |
| American Food and Game Fishes | 1902 |
| American Game Fishes | 1892 |
| American Ornithology Vol. 1 | 1825 |
| American Ornithology Vol. 2 | 1828 |
| American Ornithology Vol. 3 | 1828 |
| American Ornithology Vol. 4 | 1833 |
| Amerika: eine allgemeine Landeskund | 1894 |
| Amusement Microscopique Vol. 1 | 1764 |
| Amusement Microscopique Vol. 2 | 1764 |
| Amusement Microscopique Vol. 3 | 1764 |
| An Account of the Botanic Garden in the Island of St. Vincent | 1825 |
| An Historical and Descriptive Account of the Peruvian Sheep | 1811 |
| Animate Creation Vol. 1 | 1885 |
| Animate Creation Vol. 2 | 1885 |
| Animate Creation Vol. 3 | 1885 |
| Arcana, or, the Museum of Natural History | 1811 |
| Arctic Zoology Vol. 1 | 1784 |
| Arctic Zoology Vol. 2 | 1784 |
| Atlas de Historia fisica y Politica de Chile Vol. 1 | 1854 |
| Atlas de Historia fisica y Politica de Chile Vol. 2 | 1854 |
| Atlas of Zoogeography | 1911 |
| Atlas Pintoresco e Historico De Los Estados Unidos Mexicanos | 1885 |
| Aves Hawaiienses : the Birds of the Sandwich Islands | 1890 |
| Beitrage zur Naturgeschichte von Brasilien Vol. 1 | 1825 |
| Beitrage zur Naturgeschichte von Brasilien Vol. 2 | 1826 |
| Beitrage zur Naturgeschichte von Brasilien Vol. 3 | 1830 |
| Beitrage zur Naturgeschichte von Brasilien Vol. 4 | 1832 |
| Bemerkungen aus den hochsten Schweizer-Alpen | 1840 |
| Biologia Centrali-Americana Atlas Vol. 1 | 1889 |
| Biologia Centrali-Americana Atlas Vol. 2 | 1889 |
| Biologia Centrali-Americana Atlas Vol. 3 | 1889 |
| Biologia Centrali-Americana Atlas Vol. 4 | 1889 |
| Biologia Centrali-Americana Vol. 1 | 1889 |
| Biologia Centrali-Americana Vol. 2 | 1889 |
| Biologia Centrali-Americana Vol. 3 | 1889 |
| Birds of Britain | 1907 |
| Birds of New Mexico | 1928 |
| Birds of New York Vol. 1 | 1910 |
| Birds of New York Vol. 2 | 1914 |
| Botanical Reminiscences in British Guiana | 1876 |
| Brazil and the Brazilians | 1857 |
| Buenos Ayres, and the Provinces of the Rio de la Plata | 1838 |
| Canoe and Camp Life in British Guiana | 1876 |
| Casparis Barlaei, Rerum per Octennium in Brasilia | 1647 |
| Catalogue of the Plants in the Government Botanic Garden | 1876 |
| Catlin's Indian Portfolio | 1844 |
| Die zweite Deutsche Nordpolarfahrt Vol. 1 | 1873 |
| Die zweite Deutsche Nordpolarfahrt Vol. 2 | 1873 |
| Egyptian Birds | 1909 |
| Elf Landschafts-Ansichten von Java | 1853 |
| Esplorazione delle Regioni Equatoriali | 1854 |
| Excursions in Madeira and Porto Santo | 1825 |
| Exploration of Mount Kina Balu, North Borneo | 1893 |
| Explorations in South-West Africa | 1864 |
| Fifteen Thousand Miles on the Amazon and its Tributaries | 1878 |
| Flora Fossilis Arctica Vol. 1 | 1868 |
| Flora Fossilis Arctica Vol. 2 | 1871 |
| Flora Fossilis Arctica Vol. 3 | 1874 |
| Flora Fossilis Arctica Vol. 4 | 1877 |
| Flora Fossilis Arctica Vol. 5 | 1878 |
| Flora Fossilis Arctica Vol. 6 | 1880 |
| Flora Fossilis Arctica Vol. 7 | 1883 |
| Geographie Vivante, ou, Tableaux Raisonnes | 1821 |
| Grouse and Grouse Moors | 1910 |
| Heligoland as an Ornithological Observatory | 1895 |
| Hints on Ornamental Gardening | 1823 |
| Histoire de la Laponie | 1678 |
| Historia Naturalis Brasiliae | 1648 |
| History of the Indian Archipelago Vol. 1 | 1820 |
| History of the Indian Archipelago Vol. 2 | 1820 |
| History of the Indian Archipelago Vol. 3 | 1820 |
| Humming Birds, Described and Illustrated | 1862 |
| Illustrations of Japan | 1822 |
| Illustrations of the Birds of Jamaica | 1849 |
| Illustrations of the Family of Psittacidae, or Parrots | 1832 |
| Interesting Selections from Animated Nature Vol. 1 | 1809 |
| Interesting Selections from Animated Nature Vol. 2 | 1809 |
| Joannis Schefferi Argentoratensis Lapponia | 1674 |
| Joannis Schefferi von Strassburg Lappland | 1675 |
| Journal of a Residence in Colombia Vol. 1 | 1825 |
| Journal of a Residence in Colombia Vol. 2 | 1825 |
| Journals of Expeditions of Discovery into Central Australia Vol. 1 | 1845 |
| Journals of Expeditions of Discovery into Central Australia Vol. 2 | 1845 |
| Journals of Two Expeditions of Discovery in Australia Vol. 1 | 1841 |
| Journals of Two Expeditions of Discovery in Australia Vol. 2 | 1841 |
| Kaladilt Pelleserkangoaeta Hans Ededib | 1837 |
| Letters from the Canary Islands | 1804 |
| Matabele Land and the Victoria Falls | 1881 |
| Mission from Cape Coast Castle to Ashantee | 1819 |
| Mouse Reveals Atlantis | 1897 |
| Museum de la Jeunesse | 1809 |
| Narrative, of a Five Years Expedition Vol. 1 | 1796 |
| Narrative, of a Five Years Expedition Vol. 2 | 1796 |
| Narrative of a Journey to the Shores of the Polar Sea | 1823 |
| Narrative of a Second Expedition to the Shores of the Polar Sea | 1828 |
| Narrative of a Survey of the Intertropical and Western Coasts of Australia Vol. 1 | 1827 |
| Narrative of a Survey of the Intertropical and Western Coasts of Australia Vol. 2 | 1827 |
| Narrative of the Expedition of an American Squadron to the China Seas and Japan Vol. 1 | 1856 |
| Narrative of the Expedition of an American Squadron to the China Seas and Japan Vol. 2 | 1856 |
| Narrative of the Expedition of an American Squadron to the China Seas and Japan Vol. 3 | 1856 |
| Narrative of the Surveying Voyage of H.M.S. Fly Vol. 1 | 1847 |
| Narrative of the Surveying Voyage of H.M.S. Fly Vol. 2 | 1847 |
| Narrative of the United States Exploring Expedition Vol. 1 | 1845 |
| Narrative of the United States Exploring Expedition Vol. 2 | 1845 |
| Narrative of the United States Exploring Expedition Vol. 3 | 1845 |
| Narrative of the United States Exploring Expedition Vol. 4 | 1845 |
| Narrative of the United States Exploring Expedition Vol. 5 | 1845 |
| Narratives of South America | 1836 |
| Nature and Art | 1867 |
| Neu-Seeland | 1863 |
| New Illustration of the Sexual System of Carolus von Linnaeus | 1807 |
| New Zealand : Its Physical Geography, Geology, and Natural History | 1867 |
| Niagara Falls, Nature's Throne | 1907 |
| North American Indians Vol. 1 | 1913 |
| North American Indians Vol. 2 | 1913 |
| Notes of a Military Reconnaissance | 1848 |
| Observations on the Neilgherries | 1834 |
| Ocean Gardens | 1857 |
| On the Naturalised Weeds and Other Plants in South Australia | 1879 |
| On the Urari : the Deadly Arrow-Poison of the Macusis | 1879 |
| Oriental Field Sports Vol. 1 | 1807 |
| Oriental Field Sports Vol. 2 | 1808 |
| Our Earth and It's Story | 1893 |
| Pacific Railroad Survey Reports Vol. 1 | 1855 |
| Pacific Railroad Survey Reports Vol. 2 | 1857 |
| Pacific Railroad Survey Reports Vol. 3 | 1856 |
| Pacific Railroad Survey Reports Vol. 4 | 1856 |
| Pacific Railroad Survey Reports Vol. 5 | 1856 |
| Pacific Railroad Survey Reports Vol. 6 | 1857 |
| Pacific Railroad Survey Reports Vol. 7 | 1857 |
| Pacific Railroad Survey Reports Vol. 8 | 1857 |
| Pacific Railroad Survey Reports Vol. 9 | 1858 |
| Pacific Railroad Survey Reports Vol. 10 | 1859 |
| Pacific Railroad Survey Reports Vol. 11 | 1855 |
| Pacific Railroad Survey Reports Vol. 12, Pt. 1 | 1860 |
| Pacific Railroad Survey Reports Vol. 12, Pt. 2 | 1860 |
| Parrots in Captivity Vol. 1 | 1883 |
| Parrots in Captivity Vol. 2 | 1883 |
| Parrots in Captivity Vol. 3 | 1883 |
| Partridges and Partridge Manors | 1911 |
| Pheasants and Covert Shooting | 1913 |
| Picturesque Views on the River Niger | 1840 |
| Plinius Secundus Naturalis Historiae | 1469 |
| Reise in das innere Nord-America Vol. 1 | 1839 |
| Reise in das innere Nord-America Vol. 2 | 1841 |
| Reise in das innere Nord-America Vol. 3 | 1839 |
| Reise in das innere Nord-America Vol. 4 | 1839 |
| Reise nach Abessinien, den Gala-Landern | 1868 |
| Reise nach Brasilien Vol. 1 | 1820 |
| Reise nach Brasilien Vol. 2 | 1820 |
| Reisen in Britisch-Guiana Vol. 1 | 1847 |
| Reisen in Britisch-Guiana Vol. 2 | 1847 |
| Reisen in Britisch-Guiana Vol. 3 | 1848 |
| Reize naar Brazilie Vol. 1 | 1822 |
| Reize naar Brazilie Vol. 2 | 1822 |
| Results of a Scientific Mission to India and High Asia Atlas | 1866 |
| Results of a Scientific Mission to India and High Asia Vol. 1 | 1861 |
| Results of a Scientific Mission to India and High Asia Vol. 2 | 1862 |
| Results of a Scientific Mission to India and High Asia Vol. 3 | 1863 |
| Results of a Scientific Mission to India and High Asia Vol. 4 | 1866 |
| Richard Schomburgk's Travels in British Guiana Vol. 1 | 1922 |
| Richard Schomburgk's Travels in British Guiana Vol. 2 | 1922 |
| Schetsen van Afrika's Westkust | 1861 |
| Sea and Land | 1887 |
| Sketches From Many Shores Visited by H.M.S. Challenger | 1878 |
| Sketches on the Nipisaguit | 1860 |
| South Australia Illustrated | 1847 |
| Souvenir View Book of the White Mountains | 1923 |
| Stanley & Africa | 1890 |
| Stanley's Story | 1890 |
| Sudsee-Erinnerungen | 1883 |
| Tagebuch einer Reise vom Mississippi | 1858 |
| Temple of Flora | 1812 |
| The Arabian Horse | 1894 |
| The Atlas of Physical Geography | 1850 |
| The Birds of Tierra del Fuego | 1907 |
| The Botany of Captain Beechey's Voyage | 1841 |
| The Cabinet of Natural History & American Rural Sports Vol. 1 | 1830 |
| The Cabinet of Natural History & American Rural Sports Vol. 2 | 1832 |
| The Cabinet of Natural History & American Rural Sports Vol. 3 | 1833 |
| The Celebrated Dogs of America | 1879 |
| The Falls of Niagara | 1870 |
| The Flowers and Gardens of Japan | 1908 |
| The Flowers and Gardens of Madeira | 1909 |
| The Gardens of England | 1858 |
| The Highlands of Central India | 1871 |
| The History of Barbados | 1848 |
| The History of Lapland | 1674 |
| The History of Lapland | 1704 |
| The Kafirs Illustrated in a Series of Drawings | 1849 |
| The Living Animals of the World Vol. 1 | 1902 |
| The Living Animals of the World Vol. 2 | 1902 |
| The Living World | 1889 |
| The Mastodon Giganteus of North America | 1852 |
| The Natural and Aboriginal History of Tennessee | 1823 |
| The Natural History of Norway | 1755 |
| The Natural History of Quadrupeds Vol. 1 | 1811 |
| The Natural History of Quadrupeds Vol. 2 | 1814 |
| The Natural History of the Fishes of Guiana Vol. 1 | 1841 |
| The New Zealanders Illustrated | 1847 |
| The Palm Tree | 1864 |
| The Peaks & Valleys of the Alps | 1868 |
| The Rifle and the Hound in Ceylon | 1854 |
| The Savage World | 1891 |
| The Story of Our Planet | 1898 |
| The Three Voyages of Captain James Cook Round the World Vol. 1 | 1821 |
| The Three Voyages of Captain James Cook Round the World Vol. 2 | 1821 |
| The Three Voyages of Captain James Cook Round the World Vol. 3 | 1821 |
| The Three Voyages of Captain James Cook Round the World Vol. 4 | 1821 |
| The Three Voyages of Captain James Cook Round the World Vol. 5 | 1821 |
| The Three Voyages of Captain James Cook Round the World Vol. 6 | 1821 |
| The Three Voyages of Captain James Cook Round the World Vol. 7 | 1821 |
| The Zoology of Captain Beechey's Voyage | 1839 |
| Three Wonderlands of the American West | 1912 |
| To the Victoria Falls of the Zambesi | 1876 |
| Travels in Brazil | 1820 |
| Travels in Lycia, Milyas, and the Cibyratis Vol. 1 | 1847 |
| Travels in Lycia, Milyas, and the Cibyratis Vol. 2 | 1847 |
| Travels in the Central Parts of Indo-China Vol. 1 | 1864 |
| Travels in the Central Parts of Indo-China Vol. 2 | 1864 |
| Travels in Various Parts of Peru Vol. 1 | 1830 |
| Travels in Various Parts of Peru Vol. 2 | 1830 |
| Travels Through the Interior Parts of North America | 1781 |
| Upland Game Birds and Water Fowl | 1877 |
| Utazas Kalifornia deli Reszeiben | 1860 |
| Verzeichniss der auf Seiner Reise in Nord-Amerika | 1862 |
| Vick's Flower and Vegetable Garden | 1878 |
| Victoria Falls, Zambesi River | 1865 |
| View of Nature in All Climates | 1852 |
| Views in the Himalayas | 1852 |
| Views of Nature | 1850 |
| Views of Niagara | 1831 |
| Vom Tropischen Tieflande zum Ewigen Schnee | 1892 |
| Voyage a Meroe - Atlas | 1823 |
| Voyage au Bresil Atlas | 1822 |
| Voyage de La Perouse Autour du Monde Atlas | 1797 |
| Voyage de La Perouse Autour du Monde Vol. 1 | 1797 |
| Voyage de La Perouse Autour du Monde Vol. 2 | 1797 |
| Voyage de La Perouse Autour du Monde Vol. 3 | 1797 |
| Voyage de La Perouse Autour du Monde Vol. 4 | 1797 |
| Voyage d'Exploration en Indo-Chine [Atlas-Vol. 1] | 1873 |
| Voyage d'Exploration en Indo-Chine [Atlas-Vol. 2] | 1873 |
| Voyage d'Exploration en Indo-Chine [Text-Vol. 1] | 1873 |
| Voyage d'Exploration en Indo-Chine [Text-Vol. 2] | 1873 |
| Voyage Pittoresque Autour de Monde | 1822 |
| Voyage Pittoresque et Historique au Bresil Vol. 1 | 1834 |
| Voyage Pittoresque et Historique au Bresil Vol. 2 | 1835 |
| Voyage Pittoresque et Historique au Bresil Vol. 3 | 1839 |
| Voyages au Soudan Oriental et Dans l'Afrique Septentrionale | 1852 |
| Vues des Cordilleres et Monumens de l'Amerique | 1813 |
| Waarachtige en aen-merkens-waardige Historie van Lapland | 1682 |
| Wild life in Canara and Ganjam | 1885 |
| Wild Life on the Fjelds of Norway | 1861 |
| Wild Sports of the World | 1862 |
| Zoological Researches in Java | 1824 |
Images
Maps
View All Topics