Mountaineering Collection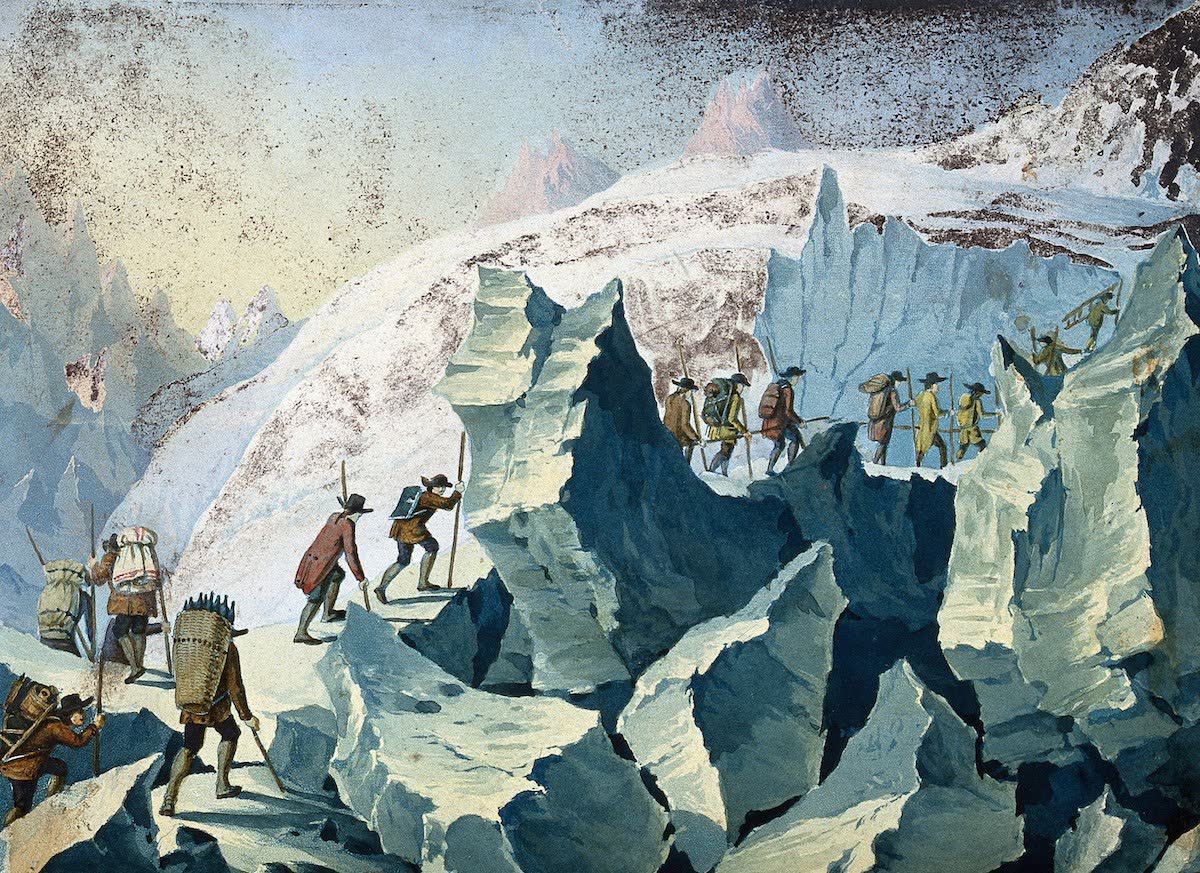 The awakening of man's interest in mountains is chiefly due to Rousseau, though earlier writers, while approaching them as scientists, were also susceptible to their charm. This two-fold interest led Saussure to incite J. Balmat to find a way to the summit of Mont Blanc in 1786 and to accompany him thither in 1787. From that ascent alpinism is generally dated. In London in 1857 was formed the first Alpine Club to foster "the community of feeling amongst those who in the life of the High Alps have shared the same enjoyments, the same labours, and the same dangers." This idea, in a modified form, was taken up throughout Continental Europe and advocated with such enthusiasm that more than 100,000 persons of both sexes are now enrolled in the various alpine societies.
The largest of these are the German and Austrian (founded in 1862), about 55,000 members; Swiss (1863), 7000; Italian (1863), 54,000; and French (1874), 6000. In America three strong societies came into being: the Appalachian Mountain Club (q.v.) in Boston (1876), 1300 members; the Sierra Club (1892) in San Francisco, 800; and the 'Mazamas' (1894) in Portland, Ore. In these derivative societies eligibility is based upon a love of nature and of the mountain in particular rather than on alpinism proper, though most of them contain a contingent of expert climbers. The American Alpine Club (1902), with its home in Philadelphia, aims to revert to the original type, but adds to its field polar exploration and the study of glaciers.
Thus cultivated, Alpine climbing has attained almost to a science. Its principles are set forth in extended manuals, such as Dent's Mountaineering, Badminton Library (London, 1892). It has called into existence the class of professional guides—Swiss, Tyrolese, and Italian—whose skill far exceeds that of the best amateurs. Their aid, always expedient in tours above snow line, is indispensable in attacks upon giant peaks in distant lands, such as have frequently been made within recent times.
+ Read More
List of Mountains
References:
Consult: J. Forbes, Travels Through the Alps (Edinburgh, 1843); A. W. Moore, The Alps in 1864, from MS. copy (Edinburgh, 1902); J. Ball and E. S. Kennedy, Peaks, Passes, and Glaciers (London, 1859-62); G. Studer, Ueber Eis und Schnee (Bern, 1869-71); J. Tyndall, Mountaineering in 1861 (London, 1862); id., Hours of Exercise in the Alps (ib., 1871); L. Stephen, The Playground of Europe (ib., 1871); E. Whymper, Scrambles Among the Alps (ib., 1871): id., Travels in the Great Andes of the Equator (ib., 1892); C. T. Dent, Above the Snow-line (ib., 1885); Clarence King, Mountaineering in the Sierra Nevada (Boston, 1886); W. M. Conway, Climbing in the Karaoram-Himalayas (London, 1894); id., The Alps from End to End (ib., 1895); id., The Bolivian Andes (New York, 1901); A. F. Mummery, My Climbs in the Alps and Caucasus (ib., 1895); E. A. Fitzgerald, Climbs in the New Zealand Alps (ib., 1896); id., The Highest Andes (ib., 1899); F. M. B. Workman, In the Ice World of the Himalaya (New York, 1898); C. E. Mathews, The Annals of Mont Blanc and the Matterhorn (London, 1898); F. De Filippi, The Ascent of Mount Saint Elias (London, 1900); W. D. Wilcox, Camping in the Canadian Rockies (New York, 1900); J. N. Collie, Climbing in the Himalayas and Other Mountains (Edinburgh, 1902). For recent American mountaineering, consult Appalachia, vols, i.-ix. (Boston, 1876-1902), and Sierra Club Bulletin, vols. i.-iii. (San Francisco, 1893-1903).
The New International Encyclopaedia (1905)
Available Books
Images
Maps
View All Topics