Tibet Collection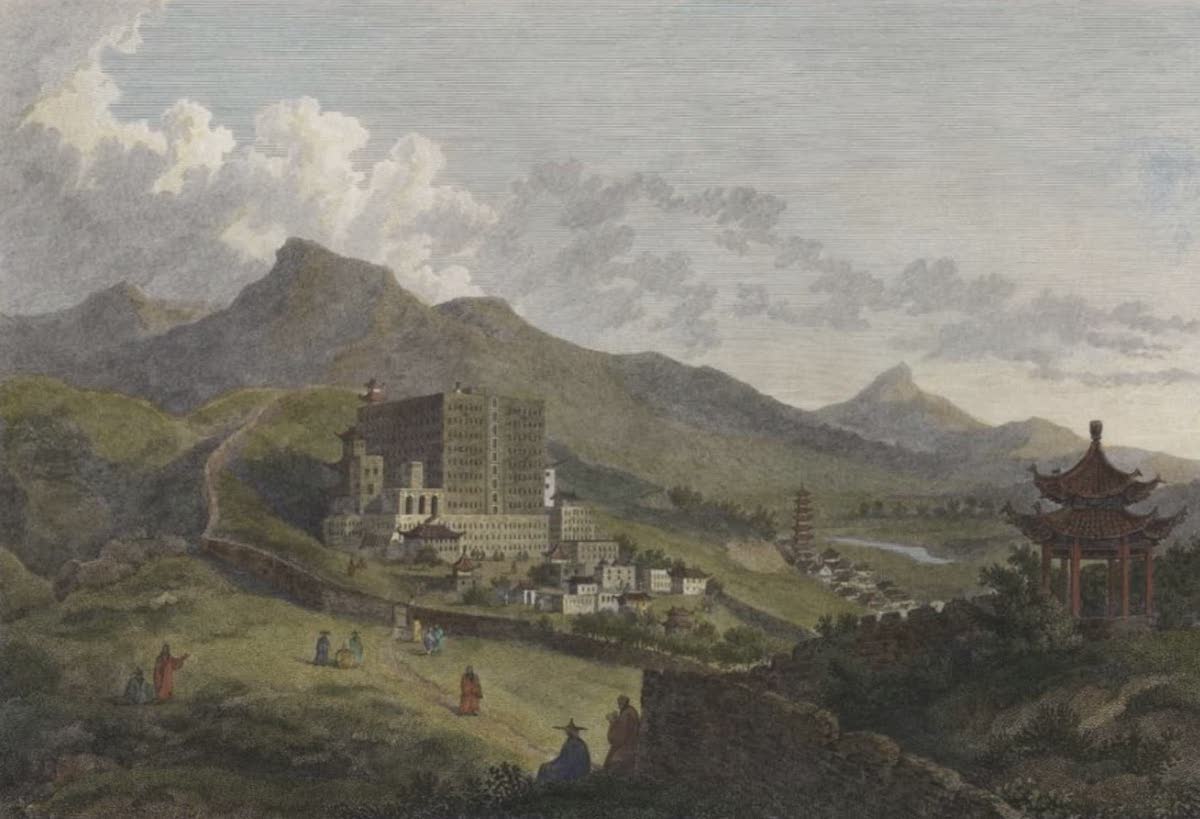 TIBET, or Thibet, a country of central Asia. It is the highest country in the world, comprising table-lands averaging over 16,500 ft. above the sea, the valleys being at 12,000 to 17,400 ft., the peaks at 20,000 to 24,600 ft., and the passes at 16,000 to 19,000 ft. It is bounded on the N. by Turkestan, on the E. by China, on the W. by Kashmir and Ladak, and on the S. by India, Nepal and Bhutan. It has an area of over 1,000,000 sq. m., and an estimated population of about 3,000,000, being very sparsely inhabited.
Tibet was long a terra incognita to Europeans. It is difficult of access on all sides, and everywhere difficult to traverse. Its great elevation causes the climate to be rather arctic than tropical, so that there is no gradual blending of the climates and physical conditions of India and Tibet, such as would tend to promote intercourse between the inhabitants of these neighbouring regions; on the contrary, there are sharp lines of demarcation, in a mountain barrier which is scalable at only a few points, and in the social aspects and conditions of life on either side.
No great armies have ever crossed Tibet to invade India; even those of Jenghiz Khan took the circuitous route via Bokhara and Afghanistan, not the direct route from Mongolia across Tibet. Added to this was the religious exclusiveness of the Tibetans themselves. Thus it was no easy matter for the early European travellers to find their way into and explore Tibet.
The first Englishman to enter Tibet was George Bogle, a Writer of the East India Company, in 1774, on an embassy from Warren Hastings to the Tashi lama of Shigatse. In 1783 Lieut. Samuel Turner was dispatched on a mission similar to that of Bogle, and reached Shigatse. In 1811-1812 the first English visit to Lhasa occurred. The traveller was Thomas Manning, a Cambridge man of Caius College, who had been long devoted to Chinese studies, the "friend M." of Charles Lamb, from whom "Elia" professes to have got that translation of a Chinese MS. which furnished the dissertation on roast pig.
After residing some years at Canton, Manning went to Calcutta, bent on reaching the interior of China through Tibet, since from the seaboard it was sealed. He actually did reach Lhasa, stayed there about five months, and had several interviews with the Dalai lama, but was compelled to return to India. He never published anything regarding his journey, and its occurrence was known to few, when his narrative was printed, through the zeal of Mr (afterwards Sir) C. Markham, in 1876. The account, though containing some passages of great interest, is disappointing.
Manning was the only Englishman known to have reached the sacred city without the aid of an army. But the Abbé Huc states that William Moorcroft, an Englishman who made a journey into Tibet in the neighbourhood of Lake Manasarowar in 1812, and another into Kashgar in 1824, lived in Lhasa for twelve years disguised as a Mussulman. He was supposed to have died on the Afghan frontier in 1825 on his second journey; but if Huc's story is true he reached Lhasa in 1826, and did not leave it till 1838, being assassinated on his homeward journey, when maps and drawings were found on him, and his identity was for the first time suspected by the Tibetans. During the 19th century Europeans were systematically prevented from entering the country or speedily expelled if found in it.
In 1844—1846 the French missionaries, Evariste Régis Huc and Joseph Gabet, made their way to Lhasa from China. They travelled from China the route followed by Grueber and by Van de Putte, via Siningfu, and reached Lhasa on the 29th of January 1846. On the 15th of March they were sent off under escort by the rugged road to Szechuen. Huc's book, Souvenirs d'un voyage, &c., is one of the most delightful books of travel. Huc was, indeed, not only without science, perhaps without accurate knowledge of any kind, but also without that geographical sense which sometimes enables a traveller to bring back valuable contributions to geographical knowledge though unable to make instrumental observations. He was, however, amazingly clever as a narrator and sketcher of character.
It was Ke-shen, a well-known Chinese statesman, who was disgraced for making peace with the English at Canton in 1841, and was then on a special deputation to Lhasa, who ostensibly expelled them. The Tibetan regent, with his enlightened and kindly spirit, is painted by Huc in most attractive colours, and Markham expressed the opinion that the native authorities were then willing to receive strangers, while the jealousy that excluded them was Chinese only. The brothers Henry and Richard Strachey visited Manasarowar Lake in 1846 and 1848 respectively. In 1866 the Abbé Desgodins travelled through portions of eastern Tibet and reached Chiamdo (in Kham), but was prevented from approaching any closer to Lhasa.
References:
Tibet by Lawrence Waddell, Thomas Holdich, Albert de Lacouperie, and Osbert Howarth, 1911 Encyclopædia Britannica, Volume 26. pp. 916-928.
Available Books
Images
View All Regions