Oceania Collection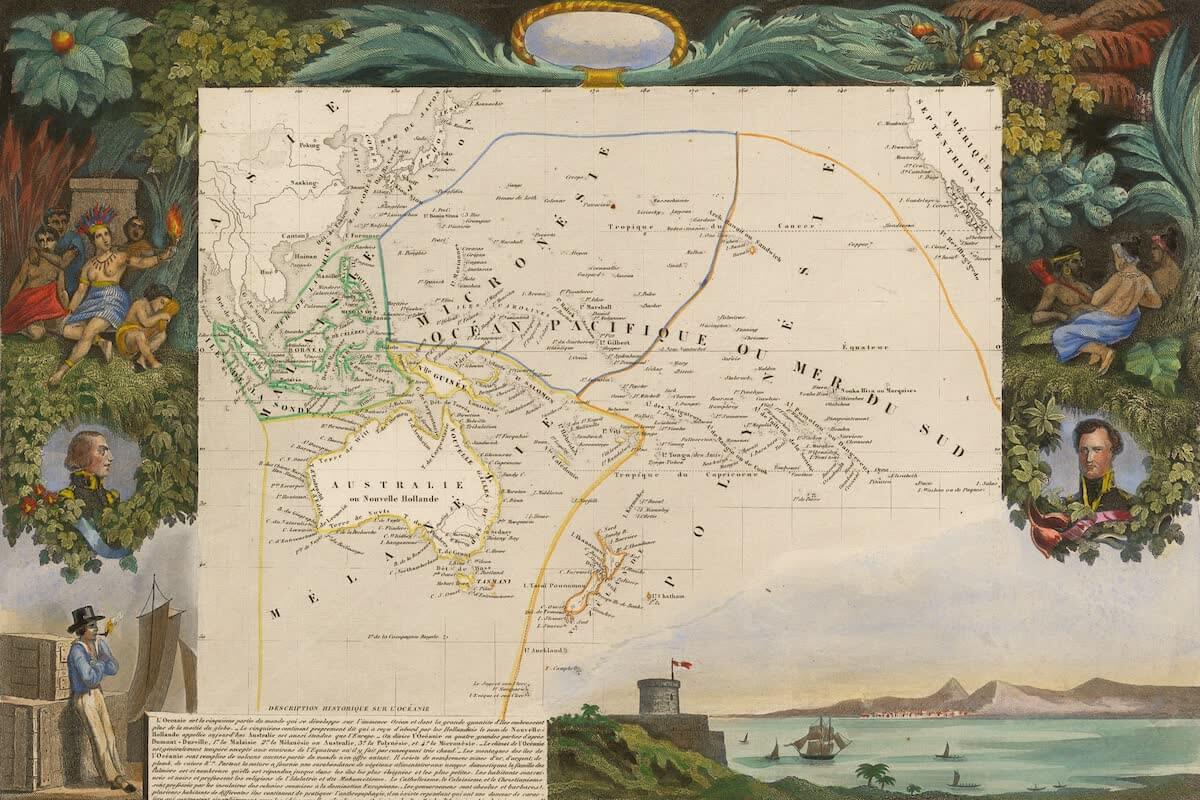 Oceania, collective name for the islands scattered throughout most of the Pacific Ocean. The term, in its widest sense, embraces the entire insular region between Asia and the Americas. A more common definition excludes the Ryukyu, Kuril, and Aleutian islands and the Japan archipelago.
The most popular usage delimits Oceania further by eliminating Indonesia, Taiwan, and the Philippines, because the peoples and cultures of those islands are more closely related historically to the Asian mainland. Oceania then, in its most restricted meaning, includes more than 10,000 islands, with a total land area (excluding Australia, but including Papua New Guinea and New Zealand) of approximately 317,700 square miles (822,800 square km).
Oceania has traditionally been divided into four parts: Australasia (Australia and New Zealand), Melanesia, Micronesia, and Polynesia. As recently as 33,000 years ago no human beings lived in the region, except in Australasia. Although disagreeing on details, scientists generally support a theory that calls for a Southeast Asian origin of island peoples.
By 2000 about 12 million islanders lived in Oceania (excluding Australia), and many indigenous cultures were revolutionized by intensive contact with non-Oceanic groups who had intruded from various parts of the Western world. (The arts of the region are discussed in several articles; see art and architecture, Oceanic; music and dance, Oceanic; and Oceanic literature.) Pop. (2001 est.) including Australia, 31,377,000.
References:
Encyclopaedia Britannica
Regional Sub-Divisions
Available Books
| Book Title | Date |
| --- | --- |
| An Account of a Voyage to New South Wales | 1803 |
| Views in Australia or New South Wales | 1825 |
| Vues et Paysages des Regions Equinoxiales | 1826 |
| Voyage Pittoresque Autour de Monde | 1822 |
| Australian Landscapes | 1866 |
| Voyage of H.M.S. Blonde to the Sandwich Islands | 1826 |
| Field Sports of the Native Inhabitants of New South Wales | 1813 |
| South Australia Illustrated | 1847 |
| A Voyage of Discovery, into the South Sea and Beering's Straits Vol. 1 | 1821 |
| A Voyage of Discovery, into the South Sea and Beering's Straits Vol. 2 | 1821 |
| A Voyage of Discovery, into the South Sea and Beering's Straits Vol. 3 | 1821 |
| A Literary & Historical Atlas of Africa and Australasia | 1913 |
| The Royal Atlas & Gazetteer of Australasia | 1890 |
| New Zealand : Its Physical Geography, Geology, and Natural History | 1867 |
| A Voyage to Terra Australis Vol. 1 | 1814 |
| A Voyage to Terra Australis Vol. 2 | 1814 |
| A Voyage to Terra Australis [Atlas] | 1814 |
| Narrative of a Survey of the Intertropical and Western Coasts of Australia Vol. 1 | 1827 |
| Narrative of a Survey of the Intertropical and Western Coasts of Australia Vol. 2 | 1827 |
| Journals of Expeditions of Discovery into Central Australia Vol. 1 | 1845 |
| Journals of Expeditions of Discovery into Central Australia Vol. 2 | 1845 |
| Sketches From Many Shores Visited by H.M.S. Challenger | 1878 |
| Polynesia; A Popular Description of the Islands of the Pacific | 1866 |
| Savage Life and Scenes in Australia and New Zealand Vol. 1 | 1847 |
| Savage Life and Scenes in Australia and New Zealand Vol. 2 | 1847 |
| A Voyage to the South Sea, and Round the World Vol. 1 | 1712 |
| A Voyage to the South Sea, and Round the World Vol. 2 | 1712 |
| A Voyage of Discovery to the North Pacific Ocean Vol. 3 | 1798 |
| A Voyage of Discovery to the North Pacific Ocean Vol. 2 | 1798 |
| A Voyage of Discovery to the North Pacific Ocean Vol. 1 | 1798 |
| The Three Voyages of Captain James Cook Round the World Vol. 1 | 1821 |
| The Three Voyages of Captain James Cook Round the World Vol. 2 | 1821 |
| The Three Voyages of Captain James Cook Round the World Vol. 3 | 1821 |
| The Three Voyages of Captain James Cook Round the World Vol. 4 | 1821 |
| The Three Voyages of Captain James Cook Round the World Vol. 5 | 1821 |
| The Three Voyages of Captain James Cook Round the World Vol. 6 | 1821 |
| The Three Voyages of Captain James Cook Round the World Vol. 7 | 1821 |
| A Voyage Towards the South Pole Vol. 1 | 1777 |
| A Voyage Towards the South Pole Vol. 2 | 1777 |
| Narrative of a Visit to Brazil, Chile, Peru, and the Sandwich Islands | 1825 |
| Australia Vol. 1 | 1873 |
| Australia Vol. 2 | 1873 |
| Sudsee-Erinnerungen | 1883 |
| Ten Months in the Fiji Islands | 1864 |
| Te Ika a Maui, or, New Zealand and its Inhabitants | 1870 |
| New Zealand; or Zealandia | 1857 |
| New Zealand, Painted and Described | 1908 |
| Na Motu: or, Reef-Rovings in the South Seas | 1854 |
| Travels in New Zealand | 1846 |
| Travels in New South Wales | 1847 |
| New Zealand Graphic and Descriptive | 1877 |
| Journal of a Ten Months' Residence in New Zealand | 1823 |
| Description of the Barossa Range and its Neighbourhood in South Australia | 1849 |
| Entdeckungsreise in die Sudsee und nach der Berings-Strabe Vol. 1 | 1821 |
| Entdeckungsreise in die Sudsee und nach der Berings-Strabe Vol. 2 | 1821 |
| Entdeckungsreise in die Sudsee und nach der Berings-Strabe Vol. 3 | 1821 |
| Journey to the Southern Ocean and the Bering Strait Vol. 1 | 1821 |
| Journey to the Southern Ocean and the Bering Strait Vol. 2 | 1821 |
| Journey to the Southern Ocean and the Bering Strait Vol. 3 | 1823 |
| Notes of Travel in Fiji and New Caledonia | 1880 |
| Reminiscences of the South Seas | 1912 |
| The Savage South Seas, Painted and Described | 1907 |
| Captain Cook's Three Voyages Round the World | 1895 |
| The Aryan Maori | 1885 |
| Hawaii, Old and New | 1943 |
| Pioneers in Australasia | 1912 |
| Journal of a Cruise Among the Islands of the Western Pacific | 1853 |
| Journals of Two Expeditions of Discovery in Australia Vol. 1 | 1841 |
| Journals of Two Expeditions of Discovery in Australia Vol. 2 | 1841 |
| A Voyage Round the World | 1814 |
| Neu-Seeland | 1863 |
| Geologisch-Topographischer Atlas von Neu-Seeland | 1863 |
| The Geology of New Zealand | 1864 |
| Sketches in the Pacific | 1851 |
| Moeurs, Usages et Costumes de Tous les Peuples du Monde Vol. 4 | 1843 |
| Views of the South Seas | 1788 |
| Sketches of Australia and the Adjacent Islands | 1849 |
| An Account of the State of Agriculture & Grazing in New South Wales | 1826 |
| Descriptive Account of the Panoramic View of King George's Sound | 1834 |
| An Historical Account of the Colony of New South Wales | 1821 |
| Peeps at Many Lands: Oceania | 1911 |
| Sketches Illustrative of the Native Inhabitants and Islands of New Zealand | 1838 |
| A Visit to the South Seas, in the United States Ship Vincennes Vol. 2 | 1832 |
| A Visit to the South Seas, in the United States Ship Vincennes Vol. 2 | 1832 |
| Views in New South Wales and Van Diemen's Land | 1830 |
| A Series of Lithographic Drawings from Sketches in New Zealand | 1852 |
| New Zealand Scenery | 1877 |
| A Narrative of a Nine Months' Residence in New Zealand | 1832 |
| Van Dieman's Land : Geographical and Descriptive | 1820 |
| Views in the South Seas | 1808 |
| Early Voyages to Terra Australis | 1859 |
| The World in Miniature: South Sea Islands Vol. 1 | 1824 |
| The World in Miniature: South Sea Islands Vol. 2 | 1824 |
| Travel in Aquatint and Lithography Vol. 2 | 1957 |
| Views of Australian Scenery | 1814 |
| The Melbourne Album | 1864 |
| Mount Lyell Mines, Tasmania Vol. 1 | 1896 |
| Mount Lyell Mines, Tasmania Vol. 2 | 1898 |
| The New Zealanders Illustrated | 1847 |
| An Account of the Pelew Islands | 1788 |
| Album Pittoresque de la Fregate La Thetis et de la Corvette L'Esperance | 1828 |
| A View of the Coasts, Countries and Islands within the Limits of the South-Sea-Company | 1711 |
Images
Maps
View All Regions