New World Collection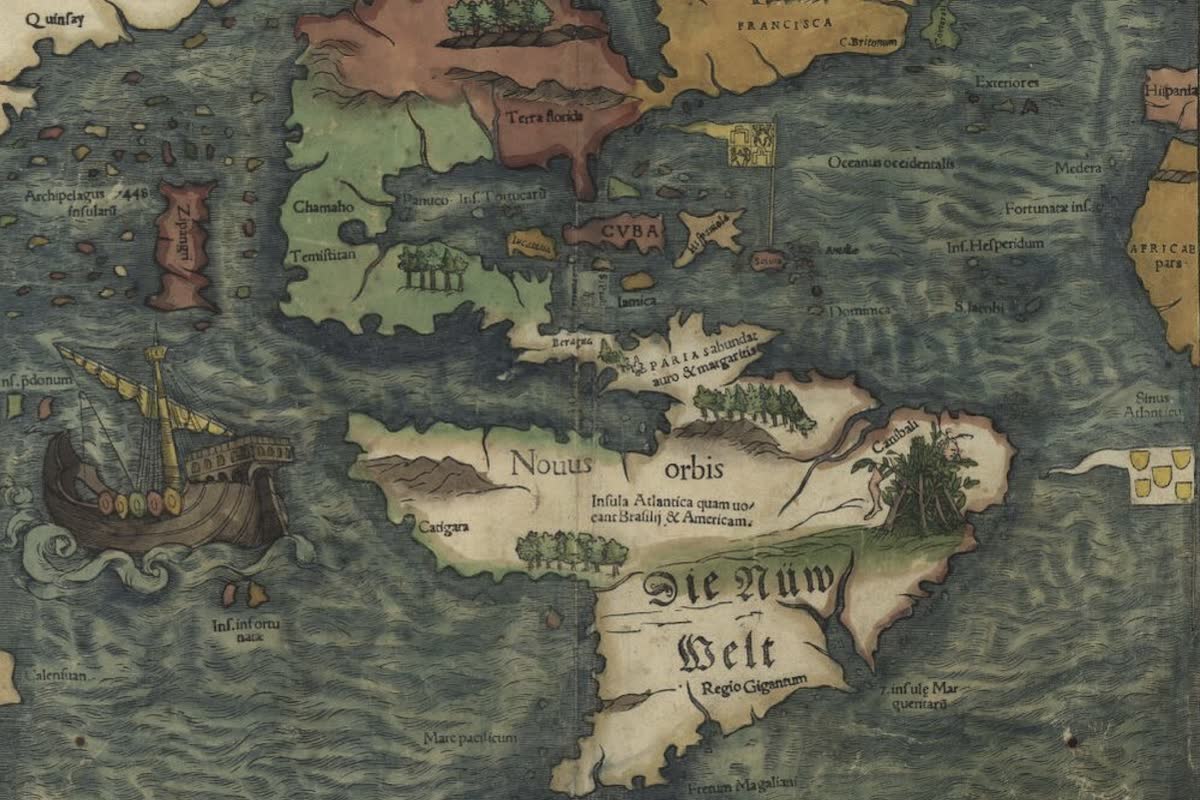 The New World is one of the names used for the majority of Earth's Western Hemisphere, specifically the Americas (including nearby islands). In 1492, Christopher Columbus, supported by the Spanish government, undertook a voyage to find a new route to Asia and inadvertently encountered "new" lands in the Americas full of long established communities and cultures.
Other European countries quickly followed suit and began to explore and invade the New World. Jacques Cartier undertook a voyage to present-day Canada for the French government, where they began the settlement of New France, developing the fur industry and fostering a more respectful relationship with many of the inhabitants.
The Spanish conquistadors invaded areas of Central and South America looking for riches, ultimately destroying the powerful Aztec and Inca cultures. The course of New World explorations was deeply affected by the invaders' interactions with indigenous groups—interactions that, through a combination of violence and disease, resulted in massive declines in indigenous populations.
This name is of very early origin, for Ferdinand inscribed on the tomb of Columbus, "To Castile and to Leon Columbus gave a new world." The Americas were also referred to as the "fourth part of the world". The term originated in the early 16th century after Europeans made landfall in what would later be called the Americas in the Age of Discovery.
This period of history lead to the expansion of the geographical horizon of classical geographers, who had thought of the world as consisting of Africa, Europe, and Asia, collectively now referred to as the Old World (a.k.a. Afro-Eurasia). The phrase gained prominence after the publication of a pamphlet titled Mundus Novus attributed to Italian explorer Amerigo Vespucci. This process culminated with the complete mapping and exploration of the planet as we see today.
Available Books
| Book Title | Date |
| --- | --- |
| The Discovery and Conquest of the New World | 1892 |
| History of the Conquest of Mexico Vol. 1 | 1843 |
| History of the Conquest of Mexico Vol. 2 | 1843 |
| History of the Conquest of Mexico Vol. 3 | 1843 |
| History of the Conquest of Peru Vol. 1 | 1847 |
| History of the Conquest of Peru Vol. 2 | 1847 |
| Le Costume Ancien et Moderne [Amerique] Vol. 1 | 1820 |
| Le Costume Ancien et Moderne [Amerique] Vol. 2 | 1821 |
| The Natural and Civil History of the French Dominions | 1760 |
| Researches into the Lost Histories of America | 1884 |
| Historical Researches on the Conquest of Peru, Mexico | 1827 |
| A Literary & Historical Atlas of America | 1911 |
| Collection of Rare and Original Documents | 1860 |
| American Ethnology | 1849 |
| Considerations Geographiques et Physiques sur les Nouvelles Decouvertes | 1753 |
| Narrative and Critical History of America Vol. 1, Pt. 1 | 1884 |
| Narrative and Critical History of America Vol. 1, Pt. 2 | 1884 |
| Narrative and Critical History of America Vol. 2, Pt. 1 | 1884 |
| Narrative and Critical History of America Vol. 2, Pt. 2 | 1884 |
| Narrative and Critical History of America Vol. 3, Pt. 1 | 1884 |
| Narrative and Critical History of America Vol. 3, Pt. 2 | 1884 |
| Narrative and Critical History of America Vol. 4, Pt. 1 | 1884 |
| Narrative and Critical History of America Vol. 4, Pt. 2 | 1884 |
| Narrative and Critical History of America Vol. 5, Pt. 1 | 1884 |
| Narrative and Critical History of America Vol. 5, Pt. 2 | 1884 |
| Narrative and Critical History of America Vol. 6, Pt. 1 | 1884 |
| Narrative and Critical History of America Vol. 6, Pt. 2 | 1884 |
| Narrative and Critical History of America Vol. 7, Pt. 1 | 1884 |
| Narrative and Critical History of America Vol. 7, Pt. 2 | 1884 |
| Narrative and Critical History of America Vol. 8, Pt. 1 | 1884 |
| Narrative and Critical History of America Vol. 8, Pt. 2 | 1884 |
| A Set of Plans and Forts in America | 1765 |
| The History of Ancient Mexico Vol. 1 | 1832 |
| The History of Ancient Mexico Vol. 2 | 1832 |
| A Catalogue of Books Relating to the History of America Vol. 1 | 1907 |
| A Catalogue of Books Relating to the History of America Vol. 2 | 1907 |
| A Catalogue of Books Relating to the History of America Vol. 3 | 1907 |
| A Catalogue of Books Relating to the History of America Vol. 4 | 1907 |
| History of the Spanish Conquest of Yucatan and of the Itzas | 1917 |
| An Account of the Conquest of Peru | 1917 |
| Relation of the Discovery and the Conquest of the Kingdoms of Peru Vol. 1 | 1921 |
| Relation of the Discovery and the Conquest of the Kingdoms of Peru Vol. 2 | 1921 |
| Biblioteca Andina | 1928 |
| Parte Primera dela Chronica del Peru | 1553 |
| The Seventeen Years Travels of Peter de Cieza | 1709 |
| The Travels of Pedro de Cieza de Leon | 1864 |
| Segunda Parte de La Cronica del Peru | 1880 |
| Ttahuantin-Suyu or the Empire of the Yncas | 1880 |
| The Second Part of the Chronicle of Peru | 1883 |
| The War of Quito | 1913 |
| The War of Chupas | 1918 |
| The War of Las Salinas | 1923 |
| La Cronica del Peru | 1922 |
| A Svmmarie and Trve Discovrse of Sir Frances Drakes West Indian Voyage | 1589 |
| The West Indies and the Spanish Main | 1896 |
| The Coronado Expedition | 1896 |
| A New Voyage and Description of the Isthmus of America | 1699 |
| A True Reporte of the Laste Voyage into the West and Northwest Regions | 1577 |
| La Nauigation du Capitaine Martin Forbisher | 1578 |
| The Three Voyages of Martin Frobisher | 1867 |
| The Iconography of Manhattan Island Vol. 1 | 1915 |
| The Iconography of Manhattan Island Vol. 2 | 1915 |
| The Iconography of Manhattan Island Vol. 3 | 1915 |
| The Iconography of Manhattan Island Vol. 4 | 1915 |
| The Iconography of Manhattan Island Vol. 5 | 1915 |
| The Iconography of Manhattan Island Vol. 6 | 1915 |
| Historia de las Indias de Nueva Espana y Islas de Tierra Firme Vol. 1 | 1867 |
| Historia de las Indias de Nueva Espana y Islas de Tierra Firme Vol. 2 | 1880 |
| Historia de las Indias de Nueva Espana y Islas de Tierra Firme Atlas | 1880 |
| Historia General de los Hechos de los Castellanos Vols. 1 & 2 | 1601 |
| Historia General de los Hechos de los Castellanos Vols. 3, 4 & 5 | 1601 |
| Historia General de los Hechos de los Castellanos Vols. 6 & 7 | 1601 |
| Historia General de los Hechos de los Castellanos Vols. 8 & 9 | 1601 |
| Historia General de los Hechos de los Castellanos Atlas | 1601 |
| Historia General de las Indias Ocidentales Vol. 1 | 1728 |
| Historia General de las Indias Ocidentales Vol. 2 | 1728 |
| Historia General de las Indias Ocidentales Vol. 3 | 1728 |
| Historia General de las Indias Ocidentales Vol. 4 | 1728 |
| A Kindlier Light on Early Spanish Rule in America | 1911 |
| The New World | 1855 |
Images
Maps
View All Regions