Hungary Collection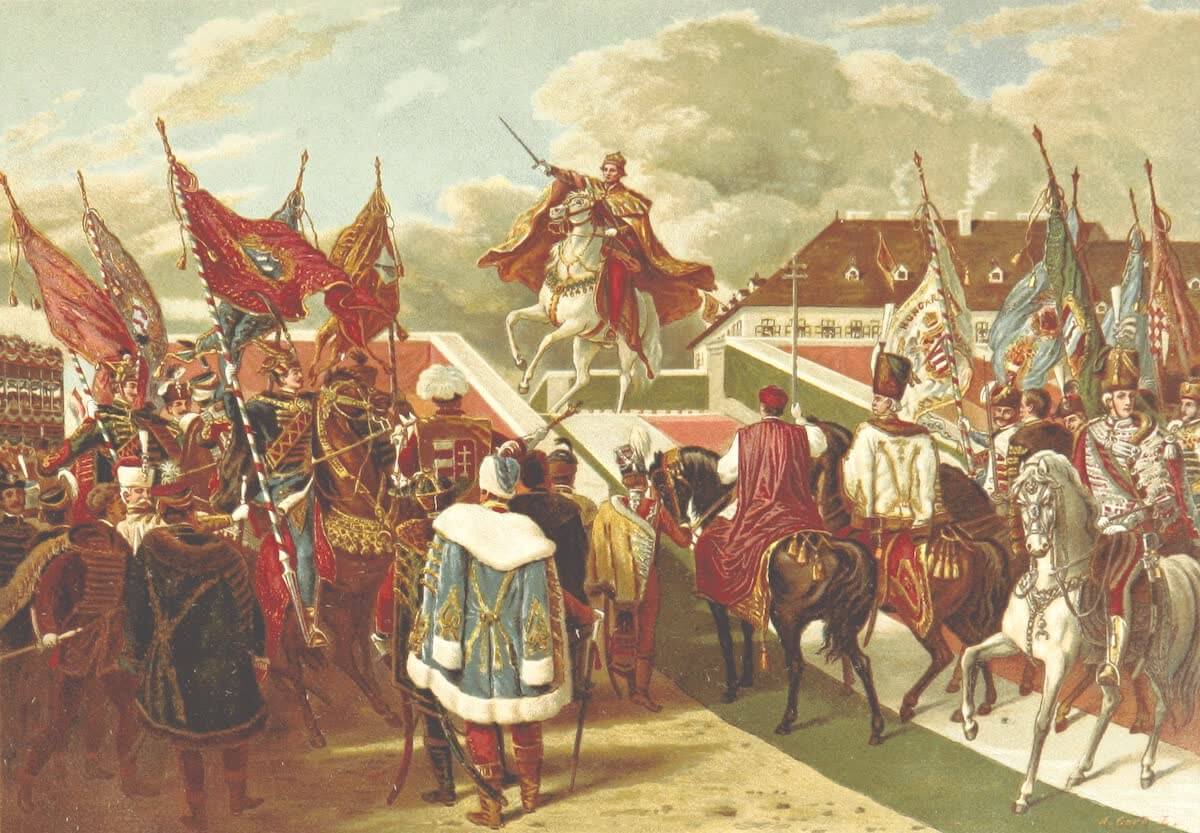 HUNGARY (Hungarian Magyarország), a country in the south-eastern portion of central Europe, bounded E. by Austria (Bukovina) and Rumania; S. by Rumania, Servia, Bosnia and Austria (Dalmatia); W. by Austria (Istria, Carniola, Styria and Lower Austria); and N. by Austria (Moravia, Silesia and Galicia). It has an area of 125,402 sq. m., being thus about 4000 sq. m. larger than Great Britain and Ireland.
The kingdom of Hungary (Magyarbiradolom) is one of the two states which constitute the monarchy of Austria-Hungary, and occupies 51.8% of the total area of the monarchy. Hungary, unlike Austria, presents a remarkable geographical unity. It is almost exclusively continental, having only a short extent of seaboard on the Adriatic (a little less than 100 m.). Its land-frontiers are for the most part well defined by natural boundaries: on the N.W., N., E. and S.E. the Carpathian mountains; on the S. the Danube, Save and Unna. On the W. they are not so clearly marked, being formed partly by low ranges of mountains and partly by the rivers March and Leitha. From the last-mentioned river are derived the terms Cisleithania and Transleithania, applied to Austria and Hungary respectively.
Arpad founded Hungary in A.D. 886, and for six and one half centuries each grew independently. Hungary became a Kingdom in 1,000, many of its present institutions originating then. Hungary in 1222, like England in 1216, won a constitution, and till 1490 was the strongest state in central Europe. In 1526 Hungary fell before Turkey but almost ceaseless wars succeeded in liberating Hungary from the Turkish yoke. Numerous German colonists brought German civilization to Hungarian towns. The Hungarian estates, assembling in Pressburg, staunchly resisted every effort to absorb Hungary in the Austrian Empire.
Austria was a powerful force in overthrowing Napoleon and from 1815 to 1865 opposed every attempt of the Magyars at independence. In 1848 Hungary rose under the lead of Kossuth, but was subjected to the imperial armies with the help of Russia. Austria renewed its efforts to germanize Hungary but failed and meanwhile lost Italy and Germany. So independence and self-government were restored to Hungary
General Division.—The kingdom of Hungary in its widest extent, or the "Realm of the Crown of St Stephen," comprises Hungary proper (Magyarország), with which is included the former grand principality of Transylvania, and the province of Croatia-Slavonia. This province enjoys to a large extent autonomy, granted by the so-called compromise of 1868. The town and district of Fiume, though united with Hungary proper in respect of administration, possess a larger measure of autonomy than the other cities endowed with municipal rights. Of the total area of the kingdom Hungary proper has 108,982 sq. m. and Croatia-Slavonia 16,420 sq. m. In the present article the kingdom is treated mainly as a whole, especially as regards statistics. In some respects Hungary proper has been particularly dealt with, while special information regarding the other regions will be found under Croatia-Slavonia, Transylvania and Fiume.
References:
Oscar Briliant, Robert N. Bain, Walter A. Phillips, Charles N. E. Eliot, Edward D. Butler and Emil Reich, 1911 Encyclopædia Britannica, Volume 13. 894-931.
Available Books
Images
View All Regions