German East Africa Collection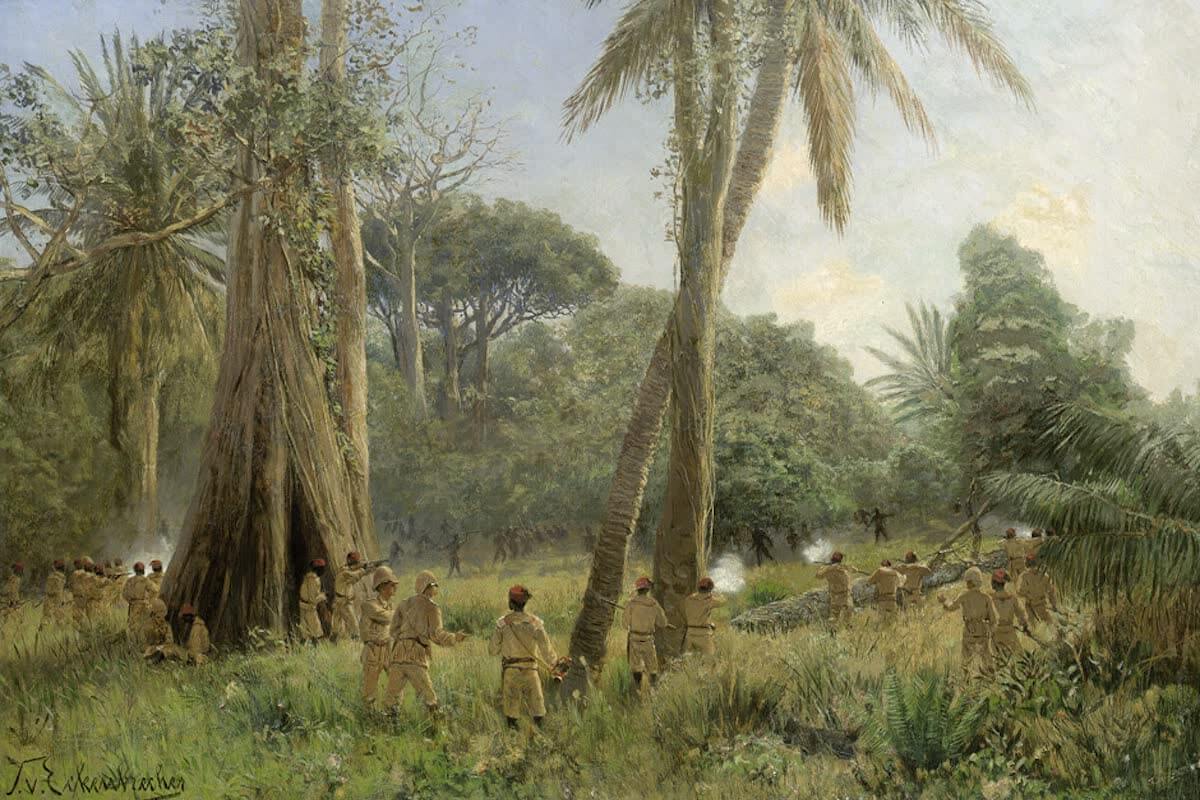 German East Africa, the largest colonial possession of the German Empire, extends from latitude 1° S. to latitude 10° 40? S. and from longitude 29° E. to 40° 40? E. It is bounded on the north by Uganda, on the northeast by British East Africa, on the east by the Indian Ocean, on the south by Portuguese East Africa, on the southwest by Nyasaland (formerly the Central Africa Protectorate) and on the west by Lakes Nyasa and Tanganyika and Congo Free State.
Its extreme length is 725, its greatest breadth nearly 625 miles, and its area of 384,000 square miles equals Arizona, California and Nevada together. Its sea-coast extends 620 miles, and inland it borders Lakes Nyasa, Tanganyika and Victoria, the most valuable lakes on the continent. The climate is tropical, but the uplands are inhabitable for Europeans. The native population is 6,750,000, mainly tribes of mixed Bantu race, with over 10,000 Arabs, Goanese, Hindus and Syrians near the coast, and 2,500 Europeans, three fifths of them Germans.
The country produces almost every tropical fruit, cacao, coffee, cinchona, fibers, sugar, tea, rubber, tobacco, vanilla, maize. Coal, copper, gold, iron, lead, mica, precious stones and salt have been found, garnets in large quantity; and forests of mangrove, palm and tamarind abound on the coast, while acacias, cotton-trees and sycamores cover the higher areas. The government forests extend over more than 200,000 acres, and the government also operates experiment-stations for stock breeding and tropical culture. The natives in the more settled regions pursue agriculture, some of them cultivating large banana-plantations, and near the coast there are many German estates. Wide, well-kept roads, on some of which rest-houses and supplies are provided, traverse the entire country.
From Tanga on the coast a railroad runs to Karagwe (54 miles), from Dar-es-Salaam another to Kingani (50 miles), while the first has a branch (28 miles) to Mombo and the second is to be prolonged to Mrogoro (130 miles). There is extensive transportation along the coast and on the great lakes by means of government-steamers. Few of the seaports are available for ocean ships. Telegraphs connect the towns on the coast with one another, with Ujiji (where connection is made with the line from Cape Town to Cairo) and with Zanzibar. Dar-es-Salaam, the capital, has 25,000 people, but Tabora, two thirds of the way from the ocean to the lakes, is the largest city (pop. 40,000), while Ujiji on the Tanganyika comes third (15,000). The country is administered by an imperial governor, and has 17 government-schools with 3,265 pupils and several hundred mission-schools with 17,000 scholars. The chief imports are cottons, rice, provisions, hardware and iron; the principal exports, rubber, copra, ivory, vegetable fibers and insect-wax.
References:
The New Student's Reference Work (1914)
Available Books

There are no works available for the German East Africa collection.
View All Regions