Cyprus Collection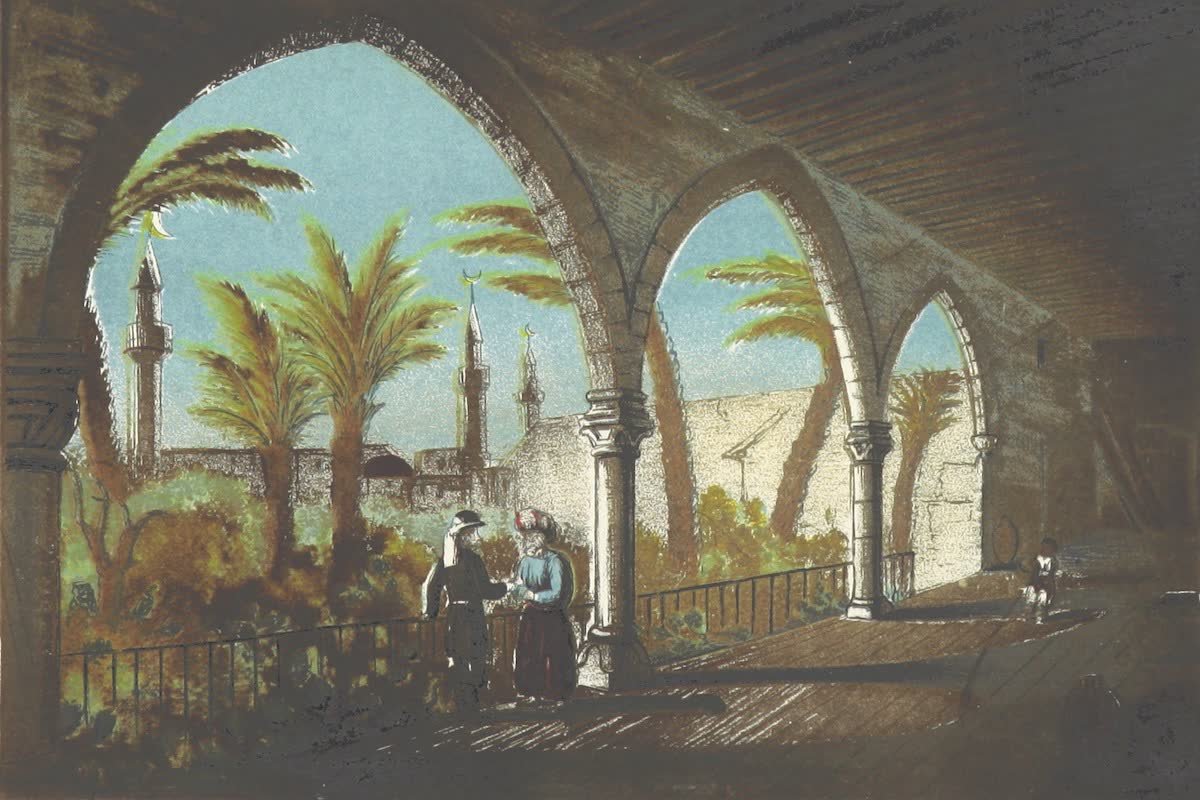 Cyprus is an island of the Mediterranean, south of Asia Minor and west of Syria. It is about 140 miles long and 60 miles wide, and covers 3,584 square miles. There are two main ranges of mountains; the highest peak is Mt. Troödes, 6,352 feet above the sea. There are no harbors, rivers or lakes worthy of the name. It is governed by Great Britain by treaty (1878) with Turkey. The capital and seat of government is Nicosia (population, 16,052); the two chief ports are Larnaca and Limasol.
Cyprus was colonized very early by the Phoenicians and afterward by the Greeks. It came under the sway successively of the Egyptians, Persians, Macedonians and Romans. The Cypriotes were one of the first Gentile people to become Christians, and were visited by St. Paul. The island was afterward taken by the Saracens; by Richard I on his way to Syria during the third crusade; by Venice; and lastly by the Turks in 1570. In 1878 Cyprus was occupied by the British, with the understanding that it is to keep it until Batum, Kars and Erzerum are restored by Russia to Turkey.
Cyprus produces wheat, barley, cotton, silk, flax, tobacco, wool, oranges, olives, grapes, etc. and great quantities of wine. Cyprus was once noted for its copper-mines, and copper got its name from that of the island, but it is only mined now at one place. The forests have mostly disappeared. The great scourges of the country are locusts and goats. The Cypriotes are peaceable, orderly and easily ruled. They are healthy and well-grown; the men, as a rule, are handsome, but the women are rarely so. Modern Greek and Turkish are spoken on the island. Population, 274,108.
+ Read More
Nicosia
Nicosia is the capital of Cyprus, situated in the north central part of the island. Pop. (1901) 14,752 (Moslem, 6013; Christian, 8739). Its earliest name was Ledra, but Leucos, son of Ptolemy Soter (280 B.C.), is said to have restored it and changed its name to Leuteon, Leucotheon or Levcosia. A mile S.W. of the town lies the very large Bronze Age necropolis known as Hagia Paraskevi, which has been repeatedly explored with valuable results.
The circuit of the city was reduced in 1567, under the direction of the Venetian engineer G. Savorgnano, from 9 m. to 3 m.; eighty churches and a number of fine houses were sacrificed. The new walls were given a circular shape, with eleven bastions and three gates. Water is supplied by two aqueducts. Government House, the residence of the high commissioner, the government offices, hospital, central prison and the new English church are without the walls. The fosse has been planted, and part of it used as an experimental garden.
Carriage roads have been completed to Kyrenia, Kythraia, Famagusta, Larnaca, Limasol and Morphou. The principal monuments of the Lusignan period are the fine cathedral church of St Sophia, an edifice of French Gothic, at once solid and elegant (the towers were never completed); the church of St Catherine, an excellent example of the last years of the 14th century (both these are now mosques); and the church of St Nicolas of the English (now a grain store), built for the order of the Knights of St Thomas of Acre. A gateway of no great importance is nearly all that remains of the palace last used by the Venetian provveditori. It dates from the end of the 15th century. There is a museum, with a valuable catalogue. The chief industries are tanning and hand weaving, both silk and cotton.
Soli
SOLI, a Greek city on the north coast of Cyprus, lying at Soliais in the metalliferous country round Karavortasi near Lefka, on the south side of Mórphou Bay. Its kingdom was bounded by the territories of Marion, Paphos, Tamassus and Lapathus. It was believed to have been founded after the Trojan War (c. 1180) by the Attic hero Acamas; but no remains have been found in this district earlier than the Early Iron Age (c. 1000-800). The town of " Sillu," whose king Irisu was an ally of Assur-bani-pal of Assyria in 668 B.C., is commonly sup- posed to represent Soli.[1] In Hellenic times Soli had little political importance, though it stood a five months' siege from the Persians soon after 500 B.C.; its copper mines, however, were famous, and have left copious slag heaps and traces of small scattered settlements. A neighbouring monastery is dedicated to Our Lady of the Slagheaps " (Panagia Skourgiótissa). But the copper seems to have been exhausted in Roman times, and thereupon Soli became desert.
See W. H. Engel, Kypros (Berlin, 1841; classical authorities); J. L. Myres and M. Ohnefalsch-Richter, Cyprus Museum Catalogue, (Oxford, 1899; antiquities): G. F. Hill, Brit. Mus. Cat. Coins of Cyprus (London, 1904; coins). (J. L. M.)?
[1] E. Schrader, Abh. K. Preuss. Ak. Wiss. (1879), pp. 31-36.
Salamis
SALAMIS, the principal city of ancient Cyprus, situated on the east coast a little north of the river Pedias (Pediaeus). It had a good harbour, well situated for commerce with Phoenicia, Egypt and Cilicia, which was replaced in medieval times by Famagusta (Ammochostos), and is wholly silted now. Its trade was mainly in corn, wine and oil from the midland plain (Mesaoria), and in salt from the neighbouring lagoons. Traditionally, Salamis was founded after the Trojan War (c. 1180 B.C.) by Teucer from Salamis, the island off Attica, but there was an important Mycenaean colony somewhat earlier. The spoils of its tombs excavated in 1896 are in the British Museum. A king Kisu of Silna (Salamis) is mentioned in a list of tributaries of Assur-bani-pal of Assyria in 668 B.c., and Assyrian influence is marked in the fine terra-cotta figures from a shrine at Toumba excavated in 1890-1891. The revolts of Greek Cyprus against Persia in 500 B.C., 386-380 B.C. and 352 B.c. were led respectively by kings Onesilaus, Evagoras (q.v.) and Pnytagoras, who seem to have been the principal Hellenic power in the island. In 306 Demetrius Poliorcetes won a great naval victory here over Ptolemy I. of Egypt. Under Egyptian and Roman administration Salamis flourished greatly, though under the Ptolemaic priest-kings and under Rome the seat of government was at New Paphos (see Paphos). But it was greatly damaged in the Jewish revolt of A.D. 116-117; it also suffered repeatedly from earthquakes, and was wholly rebuilt by Constantius II. under the name Constantia. There was a large Jewish colony in Ptolemaic and early Roman times, and a Christian community founded by Paul and Barnabas in A.D. 45-46. Barnabas was himself a Cypriote, and his reputed tomb, discovered in A.D. 477, is still shown, a little inland, near the monastery of Ai Barnába. St Epiphanius was archbishop A.D. 367-402. The Greek city was destroyed by the Arabs under the Caliph Moawiya in 647, and does not seem to have revived. In later times the site was plundered for the building of Famagusta; it is now covered by sandhills, and its plan is imperfectly known. The market-place and a few public buildings were excavated in 1890-1891, but nothing of importance was found.
See W. H. Engel, Kypros (Berlin, 1841; classical allusions); J. A. R. Munro and H. A. Tubbs, Journ. Hellenic Studies, xii. 59 ff., 298 ff. (site and monuments); British Museum, Excavations in Cyprus (London, 1900; Mycenaean tombs); G. F. Hill, 'Brit. Mus. Cat. Coins of Cyprus (London, 1904; coins).
References:
Cyprus, The New Student's Reference Work (1914)
Cyprus, 1911 Encyclopaedia Britannica, Volume 7. pgs. 695-701.
Nicosia (Cyprus), 1911 Encyclopaedia Britannica, Volume 19. pg. 665.
Soli (Cyprus), 1911 Encyclopaedia Britannica, Volume 25. pg. 360.
Salamis (Cyprus), 1911 Encyclopaedia Britannica, Volume 24. pgs. 58-59.
Available Books
Images
Maps
View All Regions