[Text - Volume 2] Voyage d'Exploration en Indo-Chine : effectue pendant les annees 1866, 1867 et 1868
Creator(s):
Date: 1873
Regions:
Topics: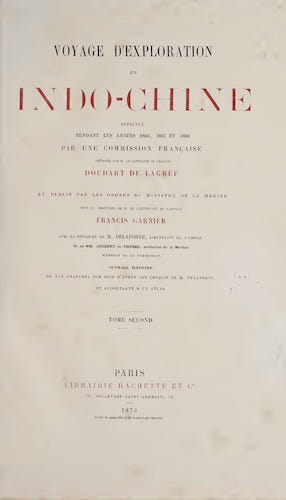 Francis Garnier was part of the French expedition under Captain Ernest Doudard de Lagree that was formed by the Commission d'exploration du Mekong (1866-1868) to explore southwest Asia. Along the way they documented archaeological ruins such as Angkor Wat, local culture, natural history and more. The expedition set out from Saigon in 1866 to explore the valley of the Mekong River in the hopes of finding a navigable route into south-western China. Garnier took command of the mission when de Lagree died and he safely led the expedition to the Chinese coast via the Yangtze River.
The expedition traversed almost 5,400 miles traveling through Vietnam, Cambodia, and Laos, mapping over 3,600 miles of terrain previously unknown to Europeans, and becoming the first westerners to enter Yunnan by a southern route. Subsequently, Garnier returned to France a hero, fought in the Franco-Prussian war, and finished the present account of the expedition before eventually returning to Indo-China to establish a colony in Tonkin.
+ Read More
This first edition was limited to 300 copies. The maps are after Garnier himself, whilst the views are taken from sketches by the expedition artist Louis Delaporte. These views, in conjunction with the fine illustrations in the text volumes, form a valuable and remarkably wide-ranging visual record of Indochina as a whole, with the depictions of the ancient capital of Laos at Viet Chan and Angkor in Cambodia being particularly impressive.
The first volume contains the descriptive, historical and political part of the voyage. The second volume deals exclusively with the scientific observations and the special works of the Exploration Commission, and Geology and Mineralogy were treated there by Dr. Joubert, Anthropology, Agriculture and Horticulture, by Dr. Thorel My Chinese interpreter, Mr. Thomas Ko, has given the translation of a Chinese work which contains valuable information on metallurgical wealth and the methods of exploitation of the province of Yun-nau. The volume ends with the specimens of the Indo-Chinese languages collected by M. de Lagree and by me.
The Atlas that accompanies this book is divided into The first, to which Messrs. de Lagree, Delaporte and I have contributed, includes Maps and Plans, the second is the very Album of the Voyage: it is entirely the work of M. Delaporte.
Collaborators include; Doudart de Lagree, Ernest, 1823-1868 (editor), Delaporte, Louis, 1842-1925 (illustrator), Joubert, Eugene (editor), Thorel, Clovis, 1833-1911 (editor).
Includes bibliographical references
Published by the firm Hachette with the lithographic plates created by Imprimerie Lemercier et cie after designs by Louis Delaporte. The plates comprised in the atlas are issued in portfolios
4 volumes (text: 2 vols., large 4to [13 1/4 x 9 3/4 inches]; atlas: 2 volumes, folio [19 1/2 x 15 inches]).
[Text] - titles in red and black, half-titles. Portrait frontispiece, 1 plate of medals, 12 maps and charts (4 colored, 6 tinted), numerous illustrations (39 full-page).
[Atlas] - 12 maps, (2 double-page); 9 plans (2 double-page); 1 tinted lithographic aerial view; 48 plates on 40 sheets (6 double page, 2 engraved, 10 hand-colored lithographs, 1 chromolithograph, 27 tinted lithographs).
References:
Cordier, BS, 329 ; Cordier, BI, 1012-1013.
No images available for this book.
Publisher: Paris: Librarie Hachette, 1873
MLA
Garnier, Francis. Voyage d'Exploration en Indo-Chine [Text-Vol. 2]. Paris: Librarie Hachette, 1873. 1873.
APA
Garnier, Francis (1873) Voyage d'Exploration en Indo-Chine [Text-Vol. 2]. Paris: Librarie Hachette, 1873.
Chicago
Garnier, Francis, Voyage d'Exploration en Indo-Chine [Text-Vol. 2]. Paris: Librarie Hachette, 1873. 1873.
Related Books