Views in Affghaunistaun, Etc., from Sketches Taken During the Campaign of the Army of the Indus
Creator(s):
Date: 1840
Regions:
Topics: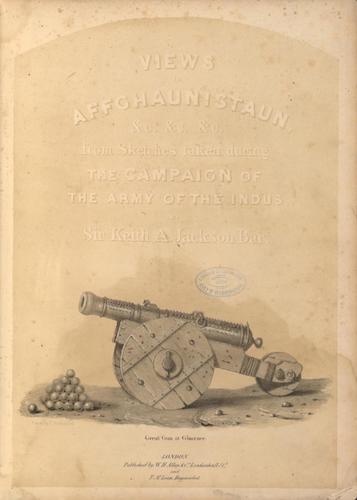 Vivid plates of views in and around Cabul, and also towards Jellabad in Afghanistan. Sir Keith Alexander Jackson was a captain in the Fourth Light Dragoons in the British army, part of the Anglo-Indian force that set out for Afghanistan from British India in December 1838, thereby precipitating the First Anglo-Afghan War (1839-42). The British objective was to drive the Afghan amir, Dost Mohammed Khan, from the throne and replace him with Shah Shuja', who was seen as more friendly to Britain and less subject to Russian influence than the amir.
The Army of the Indus, as the force was called, reached Quetta in late March 1839 and proceeded through the Bolan Pass (in present-day Pakistan) and on into Afghanistan. The British captured Kandahar on April 25, 1839, and the great fortress of Ghazni on July 23 of that year. Views in Affghaunistaun is a collection of 25 hand-colored lithographic plates, based on sketches made by Jackson in the course of the campaign.
Each of the illustrations is accompanied by a text, written by Jackson, identifying the subject and providing historical and topographical information. The book includes views of numerous cities and towns in Afghanistan and in present-day Pakistan, including Quetta, Kabul, and Kandahar. Also shown are the Bolan Pass; forts and fortresses; landscapes; ruins; and local people as well as British officers.
The frontispiece is a hand-colored portrait of an Afghan man, identified as a facsimile of a colored drawing found in one of the rooms in the fortress of Ghazni after the storming of the citadel. A map shows the route of the Army of the Indus from its starting point at Thatta (present-day Pakistan), up the Indus River, and ultimately to Kandahar and Kabul. The book is dedicated "To The Chairman and Directors of the Honble, the East India Company" by Joseph Fowell Walton, who may have been one of the lithographers. Jackson died in Kabul in 1843.
First edition. Quarto. Hand colored lithographed frontispiece, tinted lithographed pictorial title with hand colored vignette, lithographed dedication, 25 hand colored or tinted lithographed plates.
23 plates : illustrations, maps ; 39 centimeters
References:
Abbey Travel 506; Bobins 259.
No images available for this book.
Publisher: London : W. H. Allen & Company
MLA
Views in Affghaunistaun. London : W. H. Allen & Company. 1840.
APA
(1840) Views in Affghaunistaun. London : W. H. Allen & Company.
Chicago
Views in Affghaunistaun. London : W. H. Allen & Company. 1840.
Related Books