Three years among the Camanches : the narrative of Nelson Lee, the Texan ranger, containing a detailed account of his captivity among the Indians, his singular escape through the instrumentality of his watch, and fully illustrating Indian life as it is on the war path and in the camp
Creator(s):
Date: 1859
Regions:
Topics: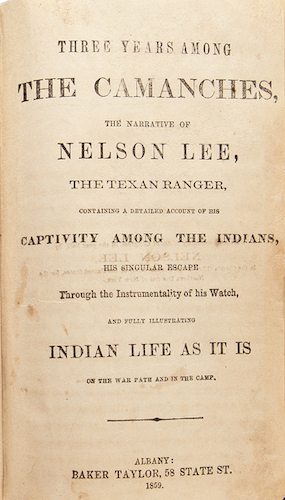 A rare overland narrative and Indian captivity: "The best contemporary description of the life of the early Texas Rangers" (Jenkins).
"Lee was a member of the Texas Navy, which he left to join the Rangers; he went through and describes the early Mexican-Texas border wars...the Santa Fe Expedition...the Mier Expedition...the Battles of Monterey, Palo Alto, etc. At the conclusion of the War, he started overland for California...but had only been out a few days when the party was surrounded by savages and all but the author and three others summarily butchered. His experiences in captivity are of vivid interest, and afford a most minute and detailed account of the manners and customs of the tribe. He gives also an account of the hardships and sufferings of his co-captives, Mrs. Haskins and her two daughters, including the torture of the former" (Eberstadt).
"The appalling and monstrous cruelties of this untamable [Comanche] nation of nomads, reconciles us somewhat to their rapid extinction. Unlike the savages of the Algonquin and Iroquois races, who invariably respected the chastity of their female prisoners, the savages of the southern plains ravish and torture them, with the combined fury of lust and bloodthirst" (Field).
12mo. (6 1/2 x 4 inches). 224pp. Frontispiece portrait.
References:
Wagner-Camp 333:1; Streeter Sale 401; Field 905; Howes L212, "b"; Dobie, p.34; Sabin 39778; Rader 2215; Graff 2444; Ayer 182; Eberstadt 122:227; Basic Texas Books 123; Garrett, p.227.
No images available for this book.
Publisher: Albany: Baker Taylor
MLA
Lee, Nelson. Three Years Among the Camanches. Albany: Baker Taylor. 1859.
APA
Lee, Nelson (1859) Three Years Among the Camanches. Albany: Baker Taylor.
Chicago
Lee, Nelson, Three Years Among the Camanches. Albany: Baker Taylor. 1859.
Related Books