Rvins of the palace of the Emperor Diocletian at Spalatro in Dalmatia
Creator(s):
Date: 1764
Regions:
Topics: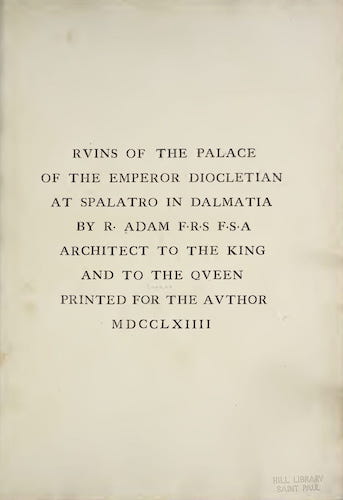 Adam Robert's book, with its elaborately engraved views, was the outcome of his visit to Spalatro (Split) during his Grand Tour. It was intended to emulate the success of Robert Wood's The Ruins of Palmyra, published in 1763. Spalatro seemed perfect for such a project, being the only significant unexplored classical site to hand.
In Florence, Adam had met the architect Charles-Louis Clerisseau (1721-1820), who was to be Adam's instructor for the next two years and who was to supervise much of the engraving for the book in Venice and London. While Adam acted as leader of the expedition and contributed architectural observations, as well as gathering subscribers for publication, the preface was written by his cousin, the Scottish historian William Robertson.
The engravings were probably based on drawings by Clerisseau (six of which are preserved in the Hermitage Museum), and were said by the Critical Review in October 1764 to possess "a taste and execution that has never been equalled in this country." Indeed, when Adam returned to Britain in 1758, "the custom's officer at Harwich had so admired the drawings that he had charged no duty" (Millard, p.5)
+ Read More
"Engraver Francesco Bartolozzi (Italian, worked in Italy, England, and Portugal, 1728-1815), Engraver Edward Rooker (English, 1711-1774), Engraver F. Patton (British, active 1745-1764), Engraver P. Santini, Engraver Anthony Walker (English, 1726-1765), Engraver Antonio Zucchi (Italian, 1726-1795), Engraver Pierre (Peter) Mazell (English, active 1761-1797), Engraver Domenico Cunego (Italian, 1727-1803), Engraver James Basire (English, 1730-1802), After Charles Louis Clerisseau (French, 1722-1820), Author Robert Adam (Scottish, 1728-1792)" -- Museum of Fine Arts, Boston.
Plates numbered I-LXI, are etchings by F. Bartolozzi, A. Zucchi, P. Santini, E. Rooker, T. Patton, A. Walker, P. Mazell, J. Bassire and D. Cunego, probably after C. L. Clérisseau and A. Zucchi; cf. Sotheby catalogue Nov. 10, 1975, lot 132. Pairs of plates, 38-39, 50-51, 52-53 are printed on single leaves; 54-56 and 57-59 are also on single leaves
"In his presentation copies of this magnificent book, Adam appears to have used a hierarchy of binding colour and ornamentation, appropriate to the importance of the recipients. Royal recipients, and institutions with royal patronage, received red goatskin bindings; friends and lesser patrons received mottled brown calf bindings; and it has been suggested (based on two surviving copies), that members of the Orders of the Garter or of the Thistle received, respectively, blue and green coloured bindings." (Royal Collection Trust)
Broadsheets (527 x 378 mm). Engraved frontispiece and 60 engraved plates (14 double-page, some folding) on 54 leaves
iv, [7], 33 pages, [54] leaves of plates : 53 cm
References:
Millard II, 1; Berlin Kat. 1893; Brunet I, 46; Cicognara 3567
No images available for this book.
Publisher: [London] : Printed for the Author
MLA
Adam, Robert. Rvins of the Palace of the Emperor Diocletia. [London] : Printed for the Author. 1764.
APA
Adam, Robert (1764) Rvins of the Palace of the Emperor Diocletia. [London] : Printed for the Author.
Chicago
Adam, Robert, Rvins of the Palace of the Emperor Diocletia. [London] : Printed for the Author. 1764.
Related Books