Africa, Being an Accurate Description of the Regions of Ægypt, Barbary, Lybia, and Billedulgerid, the land of Negroes, Guinee, Æthiopia and the Abyssines : with all the adjacent islands, either in the Mediterranean, Atlantick, Southern or Oriental Sea, belonging thereunto : with the several denominations fo their coasts, harbors, creeks, rivers, lakes, cities, towns, castles, and villages, their customs, modes and manners, languages, religions and inexhaustible treasure : with their governments and policy, variety of trade and barter : and also of their wonderful plants, beasts, birds and serpents : collected and translated from most authentick authors and augmented with later observations : illustrated with notes and adorn'd with peculiar maps and proper sculptures / by John Ogilby, Esq
Creator(s):
Date: 1670
Regions:
Topics: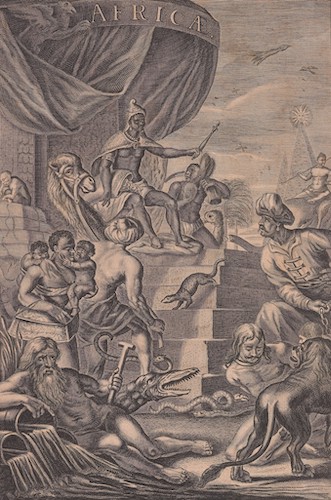 This enormous volume was published by John Ogilby (1600–1676) in 1670. It was devised as a comprehensive guide to Africa – intended for a British readership – and includes maps, topographical engravings and narrative descriptions of the countries, provinces, peoples and customs of that continent. Very little of the information was original, as Ogilby compiled and translated it from a wide selection of pre-existing European sources.
As the fledgling British Empire developed in the 17th century, knowledge of foreign lands was becoming increasingly important to the nation. Ogilby was granted a royal warrant by King Charles II (1630 –1685) to publish 'A Description of the Whole World'. Africa was the first volume in this series of ornate atlases; Atlas Japannensis (1670), America (1671), Atlas Chinensis (1671) and Asia (1673) followed.
While the portrayal of African cultures and societies in this volume is couched in bigoted and patronising terms, Ogilby's volume was, at the time of its publication, an attempt to provide a broad, detailed and accurate overview of the African continent as it was known to Europeans in the mid 17th century. For these reasons, it has become an important text in modern scholarship on representations of Africa throughout history.
Published seven years after the official sanctioning of the slave trade in the British Empire, Africa included maps of coastal trading posts in West Africa, one of the primary regions exploited by Europeans working within the transatlantic slave trade. Many of these seaports, as well as the local African cultures, are described and depicted in this volume.
Aphra Behn may have used Ogilby's Africa as source material for Oroonoko (1688), a fictional narrative set in Africa and South America. Although framed as a factual account, Oroonoko amalgamates European ideas about distinct African kingdoms and cultures, including ancient Benin and the Akan kingdoms (which were located in modern-day Nigeria and Ghana, respectively). Oroonoko, the eponymous hero, is an African prince who is captured by an English captain and transported from his home in West Africa to the English colony of Surinam, South America.
Oroonoko is from the coastal settlement of Kormantse, part of the territory of the Akan peoples, which is referred to as 'Coramantien' by Behn and 'Kormantyn' (pp. 431–33) by Ogliby. The events leading up to his enslavement are told in vivid detail by the short story's female narrator, and have similarities to Ogliby's description of 'The Monarchy of Benin' (pp. 470–78).
References:
British Library
No images available for this book.
Publisher: London: Printed by Tho. Johnson for the author
MLA
Ogilby, John. Africa, Being an Accurate Description. London: Printed by Tho. Johnson for the author . 1670.
APA
Ogilby, John (1670) Africa, Being an Accurate Description. London: Printed by Tho. Johnson for the author .
Chicago
Ogilby, John, Africa, Being an Accurate Description. London: Printed by Tho. Johnson for the author . 1670.
Related Books